The Little Mermaid (Hardcover)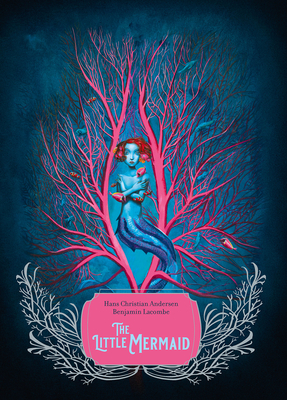 Description
---
Benjamin Lacombe's haunting illustrations alongside Hans Christian Andersen's classic story of love and loss showcase the tale in an enchanting new light

French artist Benjamin Lacombe has created stunning, one-of-a-kind artwork to illustrate the pages of Hans Christian Andersen's original tale about a young mermaid who makes a devastating deal with a sea witch and transforms into a human, only to end up heartbroken, lose the deal, and lose her life. The book's illustrations and design are unique, captivating, and unexpectedly haunting, appealing to adult fans of Benjamin Lacombe and the pop surrealist movement as well as a younger audience, especially with the upcoming nostalgia-fueled remake of Disney's The Little Mermaid.

In addition to Hans Christian Andersen's classic story, the book also includes additional pages featuring Andersen's unrequited love letters to Edvard Collins and a postface by Lacombe with historical biography and context. In an essay, Lacombe explores LGBTQ themes in Hans Christian Andersen's life. Frustrated with the overly feminine depictions of the story's protagonist throughout history, Lacombe has created an androgynous mermaid to showcase the classic tale in a new light.
About the Author
---
Benjamin Lacombe is one of the leading representatives of the new French illustration. At the age of 19, he published his first graphic novel and several other illustrated books. His final school project, Cerise Griotte (Cherry and Olive), became his first children's book and was published by Seuil Jeunesse in March 2006. It was published the following year by Walker Books (USA) and listed as one of Time magazine's 10 best children's books in 2007. Lacombe has written and illustrated a number of books since. He regularly exhibits his work, most prominently with the following galleries: Ad Hoc Art (New York), Dorothy Circus (Rome), Maruzen (Tokyo), Nucleus (Los Angeles), and Daniel Maghen Gallery (Paris). Benjamin lives and works in Paris with his dogs, Virgile and Lisbeth. Born in Denmark in 1805, Hans Christian Andersen was a writer of literary fairy tales, plays, poems, and novels. He died in 1875.