I Will Judge You by Your Bookshelf (Hardcover)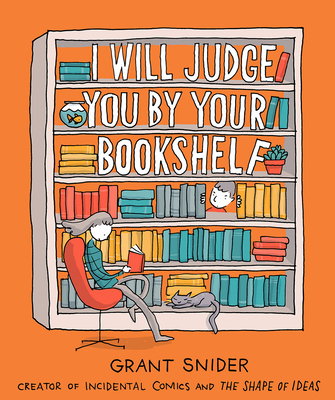 Description
---
Celebrate the culture and fanaticism of book lovers with beloved illustrator Grant Snider, whose work has appeared in the New Yorker, New York Times Book Review, and more.

It's no secret that we are judged by our bookshelves. We learn to read at an early age, and as years pass some of us shed our old books for new ones. But, also, some of us surround ourselves with books, unwilling to let them go. We collect them, decorate with them, pile them up, hoard them, are inspired by them, and treat them almost like sacred objects.

In this lighthearted collection of one- and two-page comics, writer-artist Grant Snider explores bookishness in all its forms, and the love of writing and reading, building on the beloved literary comics featured on his website, Incidental Comics. His words and art will strike a chord with anyone who has to move books when you have a guest over or can't place your coffee mug down on your coffee table because it is covered with novels, history, memoirs, classics, and self-help. Snider writes:

"I confess:
I'm in love with books.
I read in social situations.
I will use anything as a bookmark.
I confuse fiction with reality.
I am wanted for unpaid library fines.
I steal books from my children.
I like my realism with a little bit of magic.
I like to sniff old books."

With a striking package including a die-cut cover, I Will Judge You by Your Bookshelf is a full-color graphic novel celebrating books, authors, and reading, and the perfect gift for any book lover, young or old.

About the Author
---
Grant Snider is an orthodontist by day and an artist by night. His comics have been featured in the Kansas City Star, the New York Times, and The New Yorker, as well as The Best American Comics 2013 anthology. He lives in Wichita, Kansas, with his wife and four children. Visit him online at incidentalcomics.com.

Praise For…
---
"With I Will Judge You by Your Bookshelf, Snider — an artist, writer and orthodontist — has gathered up a decade's worth of his comics for boisterous bookworms into one convenient volume…Snider's thoughtful cartoons for bibliophiles also reveal he's a well-rounded reader himself."—New York Times Book Review

"This playful, self-aware collection of strips and gags on the joys and frustrations of reading and writing is equal parts lighthearted and sincere."—Publishers Weekly

"...Grant Snider has a prescient book for these times…"—Chris Arrant, Newsarama

"If you surround yourself with books and can't imagine life without them, you'll definitely want to add Snider's new collection to your shelf."—KMUW

"This is a delightful and humorous collection of comics about the joys of being a book lover, from collecting large amounts of books to (sometimes) getting around to reading them."—Book Riot

"…colorful panels convey just the right amount of information, seasoned with sly allusions and inside jokes aimed at the avid reader. Anyone with the book bug will savor Snider's brand of humor."—BookPage