Fairest of All: A Villains Graphic Novel (Paperback)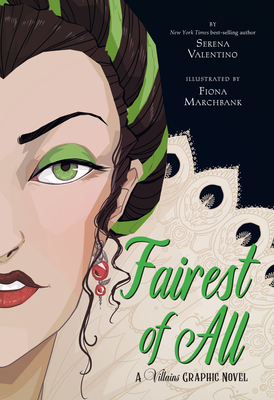 $14.99

Available from our distributor; usually Ships in 1-5 Days
Description
---
Disney's New York Times best-selling Villains series comes to life in this graphic novel adaptation of the book that started it all in this tragic tale of love and loss, the untold story of Snow White's Wicked Queen.

The tale of the young princess, Snow White, and her evil stepmother, the Wicked Queen, is widely known—the Queen was jealous of the girl's beauty, and this jealousy culminated in the Queen's attempt on the sweet, naive girl's life.

But what caused the Queen to become so, well, wicked? Perhaps the Queen hated her stepdaughter for her resemblance to the King's first wife. Perhaps she resented the girl for her beauty. Could the Queen simply have been born that cruel? Or does it have to do with a mysterious mirror, gifted to her upon her wedding and swirling with dark magic?

And who is the man in the mirror? Is he the reason for the Queen's downfall?

This tragic tale of love and loss is the untold story of the Wicked Queen, a woman who just wanted to be the fairest of all...
About the Author
---
Serena Valentino has been weaving tales that combine mythos and guile for the past decade. She has earned critical acclaim in both the comic and horror domains, where she is known for her unique style of storytelling, bringing her readers into exquisitely frightening worlds filled with terror, beauty, and extraordinary protagonists. The books in her New York Times best-selling Villains series are best enjoyed when read in the following order: Fairest of All, The Beast Within, Poor Unfortunate Soul, Mistress of All Evil, Mother Knows Best, Odd Sisters, Evil Thing, Cold Hearted, and Never Never. She is also the author of Evil Thing: A Villains Graphic Novel and the standalone novel Raising the Horseman.

Fiona Marchbank (known online as FionaCreates) is a freelance illustrator and comic book artist working in Yorkshire, UK. Follow her online at www.FionaCreates.net.
Praise For…
---
The evil stepmother in this retelling of "Snow White" starts life as a commoner who marries the king and becomes a loving mother to his little girl. How does she develop into a murderous monster? Valentino constructs an emotionally complex story that investigates the queen's origins as the daughter of a cruel mirror maker. The bitter man never showed his daughter any love, frequently telling her she was ugly. He bargained away his soul to give the beautiful wife he cherished the child she longed for and was devastated when she died in childbirth. The queen discovers that three witchy sisters—the king's cousins—brokered this supernatural deal. They appear throughout the story, continually weaving their evil magic into the queen's life and encouraging her to do horrible deeds. The royal family's lives are richly described, with the inclusion of a new character: trusted lady-in-waiting Verona. Also called "the fairest one of all" by the magic mirror, Verona is banished by the queen. The dwarves are barely seen, but many familiar plot points remain in this graphic adaptation. The tolls of parental resentment, jealousy, envy, and magic manifest in the queen's behavior as the story progresses. The illustrations, in black and white with large quantities of off-putting green, are striking. The queen's and Snow White's likenesses to Disney characters are evident; most characters read White. Of interest to readers who wish to deeply explore a tale remembered from childhood. (Graphic fantasy. 12-16)- Kirkus (Mar 1, 2023)