Don't Date Rosa Santos (Hardcover)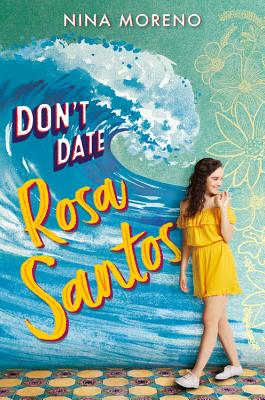 $17.99
Out of Stock - Not Available
Description
---
For fans of Gilmore Girls and To All the Boys I've Loved Before, this effervescent love story from debut author Nina Moreno will sweep you away.

Rosa Santos is cursed by the sea—at least, that's what they say. Dating her is bad news, especially if you're a boy with a boat.

But Rosa feels more caught than cursed. Caught between cultures and choices. Between her abuela, a beloved healer and pillar of their community, and her mother, an artist who crashes in and out of her life like a hurricane. Between Port Coral, the quirky South Florida town they call home, and Cuba, the island her abuela refuses to talk about.

As her college decision looms, Rosa collides—literally—with Alex Aquino, the mysterious boy with tattoos of the ocean whose family owns the marina. With her heart, family, and future on the line, can Rosa break a curse and find her place beyond the horizon?
About the Author
---
Nina Moreno is a YA writer whose prose is somewhere between Southern fiction and a telenovela. She graduated from the University of Florida and writes about Latinas chasing their dreams, falling in love, and navigating life in the hyphen. She lives by a swamp outside of Orlando where she enjoys listening to carefully curated playlists, hunting through thrift stores, drinking too much Cuban coffee, and walking into the sea every chance she gets. Don't Date Rosa Santos is her first novel.
Praise For…
---
"Perfect for fans of Jane the Virgin and One Day at a Time, Don't Date Rosa Santos is both a relatable coming of age story and a heartfelt and evocative multigenerational tale of three women bound by a legacy of love, loss, and exile. Rosa is a heroine to root for and the charming fictional town of Port Coral-and its delightful residents-will find a place in readers' hearts as Moreno infuses each page with rich Cuban culture and the unique magic of Florida."—Chanel Cleeton, bestselling author of Reese Witherspoon Book Club Pick Next Year in Havana

"Don't Date Rosa Santos is magical in every sense of the word. Moreno deftly sails her readers through huge swells of emotion, highlighting the confusion and longing of both love and diaspora. If Lin-Manuel Miranda wrote YA, it would feel like this."—Lily Anderson, author of Undead Girl Gang and Not Now, Not Ever

"A refreshing new voice, Nina Moreno takes on the sometimes complicated relationship between daughters and their mothers with such heartwarming and magical touches that readers will fall in love with and root for Rosa. A beautiful story that will stay with you long after you reach the end!"—Lilliam Rivera, award-winning author of The Education of Margot Sanchez

"A love song to family, diaspora, and girls on the verge of discovering who they want to be."—Zoraida Cordova, award-winning author of Labyrinth Lost

"Don't Date Rosa Santos blends two cultures brilliantly, seamlessly, and humorously. As I floated through these pages, I felt like a member of the Port Coral community and didn't want to leave. Rosa is a relatable American teenager guaranteed to make you smile."—Gloria Chao, author of American Panda

"This beautifully written first novel tells a story of finding your place. Moreno paints a lush picture of what a crush can feel like when more than a potential break-up seems to darken your meet-cute. Rosa is a compelling protagonist whose unique voice-smart and funny, but also warm-is refreshing in the YA landscape. Don't Date Rosa Santos is the perfect read for those searching for answers about their world and about themselves."—Booklist

"Interwoven into Rosa's energetic story are rich, often humorous descriptions of the goings-on in her lively, intergenerational, multicultural community (which is monitored and documented by Insta-addicted viejitos), the mystical practices and herbal lore of her abuela, and the pressures put on children of immigrants. Dialogue moves seamlessly between English and Spanish, adding texture to the warmth and intimacy of this story of a girl who sees recovering her heritage as what she needs in order to move forward."—BCCB

"Full of complex family relationships, a diverse community, and plenty of swoonworthy moments, fans of rom-coms won't be able to put this one down."—Kirkus Reviews

"A lyrical and enchanting story about love, loss, the sea, and sassy grandmothers. Nina Moreno writes beautifully, pulling you into the story so wholly that you can almost feel the sea breeze as you read."—Adi Alsaid, author of Let's Get Lost

"Maybe you shouldn't date Rosa Santos, but you should definitely read this book. Don't Date Rosa Santos is alive with the magic of love, family, and Cuba. This enchanting novel will sweep you up like the sea."—Stephanie Kate Strohm, author of Prince in Disguise and Love ? la Mode

"The delicate aroma of fresh-baked pastry combined with the heady intoxication of sea winds infiltrate the pages of this romantic debut novel. I fell in love with all three generations of Santos women as I rushed through the pages on Port Coral's lemon-scented breeze. When I was done, I held the book to my heart, happy for love, happy for memories, and happy this book exists in the world. Pa'lante."—Jaye Robin Brown, author of Georgia Peaches and Other Forbidden Fruit