Curse of the Shadow Dragon: A Branches Book (Dragon Masters #23) (Paperback)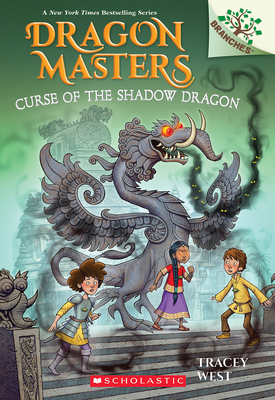 Description
---
Drake and Worm meet a Shadow Dragon in the latest action-packed installment of this New York Times bestselling series!
Pick a book. Grow a Reader!
This series is part of Scholastic's early chapter book line, Branches, aimed at newly independent readers. With easy-to-read text, high-interest content, fast-paced plots, and illustrations on every page, these books will boost reading confidence and stamina. Branches books help readers grow!
A huge shadow is blanketing the sky, spreading across every kingdom. And wizards all over the world are losing their magic powers! The Dragon Masters soon discover that a Shadow Dragon named Chaya and his Dragon Master, Aruna, are responsible for the sky-shadow. Drake teams up with Jean to figure out how this Shadow Dragon has so much power. Will they stop the sky-shadow, or will the world fall into complete darkness? And is evil magic to blame for all this chaos?
With engaging black-and-white artwork on every page, kids won't be able to put down this action-packed adventure!
About the Author
---
Graham Howells is a children's book author and illustrator. He illustrates the New York Times bestselling Dragon Masters series, written by Tracey West. He also produces artwork for games, television, and film. Howells won the 2009 English-Language Award for his book, Merlin's Magical Creatures.
Tracey West is the author of the New York Times bestselling series Dragon Masters, for Scholastic Branches. She has written more than 400 books for children, including the Underdogs series, illustrated by Kyla May; the Pixie Tricks series, illustrated by Xavier Bonet, and the perennially popular Pokémon chapter books. She lives with her husband, adopted dogs, and chickens in the western Catskill mountains of New York State.
Praise For…
---
A New York Times bestselling series!
Praise for Rise of the Earth Dragon (Dragon Masters #1):
"In this first of the Dragon Masters series, vocabulary is accessible; sentences, paragraphs, and chapters are short; and dialogue moves the story along rapidly. Black-and-white sketch-type drawings add depth to the story and feelings to the characters (both children and dragons). Emergent readers will find happy success here." -- Booklist
"The first of a new series of early chapter books, this entry is sure to attract fans. Brief chapters, large print, lots of action, attractive illustrations in every spread including a maplike panorama, an enviable protagonist -- who wouldn't want to be a Dragon Master? -- all combine to make an entertaining reader. With plenty left to be resolved, the next entry will be eagerly sought after." -- Kirkus Reviews