Come Back in September: A Literary Education on West Sixty-seventh Street, Manhattan (Paperback)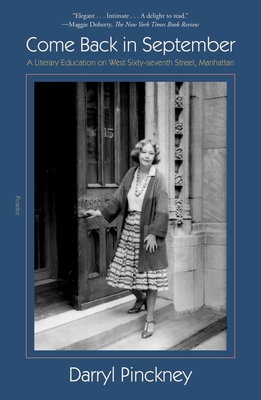 $20.00

Coming Soon - Available for Pre-Order Now
Description
---
Critic and writer Darryl Pinckney recalls his friendship and apprenticeship with Elizabeth Hardwick and Barbara Epstein and the introduction they offered him to the New York literary world.

Darryl Pinckney arrived at Columbia University in New York City in the early 1970s and had the opportunity to enroll in Elizabeth Hardwick's creative writing class at Barnard. It changed his life. When the semester was over, he continued to visit her, and he became close to both Hardwick and Barbara Epstein, Hardwick's best friend and neighbor and a fellow founder of The New York Review of Books.

Pinckney was drawn into a New York literary world where he encountered some of the fascinating contributors to the Review, among them Susan Sontag, Robert Lowell, and Mary McCarthy. Yet the intellectual and artistic freedom that Pinckney observed on West Sixty-seventh Street could conflict with the demands of his politically minded family and their sense of the unavoidable lessons of black history. In addition, through his peers and former classmates—such as Felice Rosser, Jim Jarmusch, Jean-Michel Basquiat, Lucy Sante, Howard Brookner, and Nan Goldin—Pinckney witnessed the coming together of the New Wave scene in the East Village. He experienced the avant-garde life at the same time as he was discovering the sexual freedom brought by gay liberation. It was his time for hope.

In Come Back in September, through his memories of the city and of Hardwick, we see the emergence and evolution of Pinckney himself as a writer.
About the Author
---
Darryl Pinckney is the author of the novels Black Deutschland and High Cotton and the nonfiction works Busted in New York and Other Essays, Blackballed: The Black Vote and US Democracy, and Out There: Mavericks of Black Literature.
Praise For…
---
WINNER OF THE 2023 JAMES TAIT BLACK PRIZE FOR BIOGRAPHY
2023 NATIONAL BOOK CRITICS CIRCLE AWARD FINALIST

Named a New York Times Book Review Notable Book of 2022 and a Best Nonfiction Book of 2022 by The Washington Post

"Elegant [and] intimate . . . With this new book, [Pinckney] gives us a window into the vibrant intellectual community that he and Hardwick shared . . . At times painful and poignant, Come Back in September is nonetheless a delight to read, full of deft character sketches and delicious gossip . . . I read and reread this book joyfully, catching many of Pinckney's references, looking up others and letting the rest wash over me like lyrics from a half-forgotten song." —Maggie Doherty, The New York Times Book Review

"The brilliant Elizabeth Hardwick . . . guided the 20-something Pinckney through the upper echelons of Manhattan literary and intellectual life. This memoir of that apprenticeship—by one of our most distinguished writers on African American culture, literature and history—provides a 'you are there' account of those thrilling years." —Michael Dirda, The Washington Post

"An ode to the power of mentorship if ever there was one . . . [Pinckney] takes us deep into a world in which there's no such thing as 'too literary,' a world in which literature is an all-consuming passion that requires unwavering devotion, like taking vows." —Heller McAlpin, The Wall Street Journal

"Pinckney is a sly writer, with the impressionistic brush of a poet but the dedication of a historian . . . It says something about Hardwick's brilliance that even after reading nearly 500 pages about her, I wanted more." —Jessica Ferri, Los Angeles Times

"At the heart of the book—which succeeds in capturing idiosyncrasies as well as a cultural and political era—lies Pinckney's loving relationship with Hardwick. Its depiction is all the more fond for his frankness . . . Come Back in September is a compelling paean to a vital, if unlikely, friendship." —Franklin Nelson, Financial Times (UK)

"[Pinckney's] written a remarkable work of emotional and intellectual balance—[he] pinpoints Hardwick's forcefulness as a critic while elevating the vulnerability that was essential to it." —Mark Athitakis, On the Seawall

"[A] brilliant memoir of a sentimental education among the literati of a bygone New York. Both stunningly well written and stuffed with dishy gossip . . . [Come Back in September is] an essential document of literary history evoking an era of hope, youth, wisdom, and tragedy."—Kirkus Reviews (Starred Review)

"Pinckney's affectionate reminiscences capture their lasting brilliance . . . his profound 20-year bond with Hardwick glows on the page like warm afternoon sunlight." —Lesley Williams, Booklist (Starred Review)

"A poignant study of memory in action . . . Pinckney records [Elizabeth] Hardwick's life in intimate detail . . . Pinckney's roving style, his impressionist blurring, elevates a society memoir into a kaleidoscopic portrait of 1970s New York, [and] asks us to share his admiration for a writer who saw the essay, even the book review, not as a disposable form of journalism but as an opportunity for literary creation." —Charlie Tyson, Bookforum

"[Pinckney's] prose is entertaining, gossipy, and full of vivid thumbnails yet, in its loose-jointed way, deeply serious about literature and craft . . . The result is a captivating portrait of the writing life in one of its richest settings." —Publishers Weekly

"In a sumptuously written memoir that affectingly situates itself within the space of Hardwick's offered mentorship and friendship, Pinckney—an illustrious and captivating talent in his own right—reminisces about his close relationship with the pioneering writer and critic who was also his onetime professor." —Omari Weekes, Vulture