C.R.E.A.M.: A Novel About the Streets (Paperback)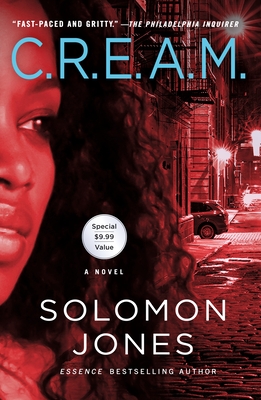 $9.99

Available from our distributor; usually Ships in 1-5 Days
Other Books in Series
This is book number 1 in the C.R.E.A.M. series.
Description
---
A gritty, powerful tale from Solomon Jones—the critically acclaimed and bestselling author of Ride or Die and The Bridge—the first book in an unforgettable series, C.R.E.A.M.

Karima "Cream" Thomas is an ex-convict from an upper-crust family whose only crime was falling for a drug dealer and refusing to testify against him. Sexy, intelligent, street-smart, and determined to change after serving time in the municipal prison system, Karima returns to find that her ex, Duane Faison, wants her back. And for one passion-filled night, she considers it. But with dawn comes common sense and the realization that she must make a clean break from her past. To do that, she'll need something she's never had to ask for: help. And she knows only one person with the power to give it.

Marilyn Johnson has fought to make it in the rough-and-tumble world of Philadelphia politics. After ten years on the City Council, she's finally made it to the president's seat, but she's had to forge some questionable alliances to make it there, including her long-running affair with the married mayor. When Karima asks for help in finding a job, Marilyn is caught off guard. Her niece's criminal record is one of the many secrets she has hidden from the public, but seeing an opportunity, crafty Marilyn hatches a plan to get rid of Karima once and for all.

The mayor is murdered in cold blood and Marilyn is sworn into office, bringing Karima's criminal past to light. She is quickly the prime suspect in the murder investigation, and in order to save her own name and get to the bottom of the story, Karima must return to the streets.
About the Author
---
Solomon Jones is an Essence bestselling author. He has written novels including The Dead Man's Wife and The Gravedigger's Ball, and is an award-winning columnist whose journalistic works have been published in Essence and the Philadelphia Daily News. He lives in Philadelphia with his family and is currently at work on his next novel.