Painting Time: A Novel (Paperback)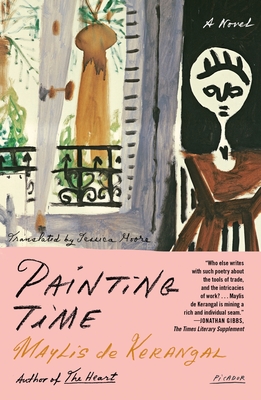 $17.00

Available from our distributor; usually Ships in 1-5 Days
Staff Reviews
---
"I will follow Maylis de Kerangal wherever she goes and this time she focuses her attention on a young artist, named Paula, as she develops her craft. Long passages describing artistic research into the composition of stone and marble has never been more poetically or beautifully written. Plus, this book has one of the sexiest, swooniest, brainiest romances I've read in a while."
— From
Amanda
Description
---
Named a most anticipated book of 2021 by The Guardian and The Millions

An aesthetic and existential coming-of-age novel exploring the apprenticeship of a young female painter.

In Maylis de Kerangal's Painting Time, we are introduced to the burgeoning young artist Paula Karst, who is enrolled at the famous Institut de Peinture in Brussels. Unlike the friends she makes at school, Paula strives to understand the specifics of what she's painting—replicating a wood's essence or a marble's wear requires method, technique, and talent, she finds, but also something else: craftsmanship. She resolutely chooses the painstaking demands of craft over the abstraction of high art.

With the attention of a documentary filmmaker, de Kerangal follows Paula's career, which is punctuated by brushstrokes, hard work, sleepless nights, sore muscles, and long, festive evenings. An enchanted and atmospheric coming-of-age novel, Painting Time is an intimate and unsparing exploration of craft, inspiration, and the contours of the contemporary art world. As she did in her acclaimed novels The Heart and The Cook, de Kerangal unravels a tightly wound professional world to reveal the beauty within.
About the Author
---
Maylis de Kerangal is the author of several books in French, including Naissance d'un pont, (published in English as Birth of a Bridge), which won of the Prix Franz Hessel and Prix Médicis in 2010; Réparer les vivants, which won the Grand Prix RTL-Lire and the Student Choice Novel of the Year from France Culture and Télérama and whose English translation, The Heart, was one of the Wall Street Journal's Ten Best Fiction Works of 2016 and the winner of the 2017 Wellcome Book Prize; and Un chemin de tables, whose English translation, The Cook, was a New York Times Book Review Editors' Choice. She lives in Paris.
Praise For…
---
"So good it makes me want to puke . . . I discovered Painting Time in a bookstore, never having heard of its author, and went on to recommend it widely and increasingly indignantly to many people . . . [Kerangal's] books aren't just technical portraits but careful, steady re-creations of emotional worlds . . . [Painting Time] derives its power from the precision that accrues within it." —Lauren Oyler, The New Yorker

"There is something magnificently true about De Kerangal's fiction, which braids technical fluency with winged prose . . . 'Capsules of pure sensation'–it's a description worth stealing to describe this novel, which is strung together image by beautiful image. This is writing that defies haste, that slows the eye . . . That [De Kerangal's] new novel's painterly resonances feel elemental, rather than effortful, cements her reputation as one of contemporary fiction's most gifted sentence builders." —Beejay Silcox, The Guardian

"[Decorative painting] is given a thrilling treatment in Maylis de Kerangal's [Painting Time] . . . Who else writes with such poetry about the tools of trade, and the intricacies of work? Michael Ondaatje springs to mind, but Maylis de Kerangal is mining a rich and individual seam." —Jonathan Gibbs, Times Literary Supplement

"Celebrated French novelist Kerangal . . . is a master of the metaphysical bildungsroman . . . [An] enthralling tale of vocation, discovery, and love . . . Kerangal balances the gloriously sensuous with the deeply reflective in an exquisite and omniscient streaming narration as she explores the title's implications . . . Kerangal's elegant, sexy, subtly Proustian, and fluidly dimensional drama of discipline and passion, imitation and imagination is resplendently evocative and exhilarating." —Donna Seaman, Booklist

"As she did with The Cook, award-winning French author de Kerangal offers stunning portraiture suffused with the joy and meaning of work. . .There's only one word for it: superbe." —Library Journal (starred review)

"[A] sensuous, language–relishing, richly evocative new work . . . A curiosity as introspective, finely wrought, and devotedly crafted as the art form it traces." —Kirkus Reviews