This Might Be Too Personal: And Other Intimate Stories (Paperback)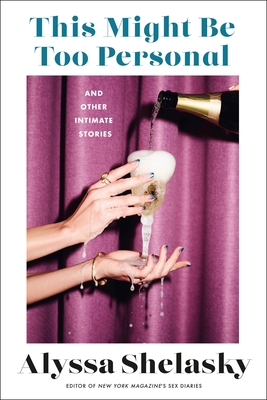 Description
---
A PureWow Best Beach Read of 2022

A frisky, feminine, funny, and profoundly genuine essay collection on relationships, sex, motherhood, and finding yourself, by the editor of New York magazine's "Sex Diaries."

Alyssa Shelasky has a lot to tell you.

In this hilarious and intimate essay collection, Alyssa navigates life as a wild-hearted woman and her thrilling career as a sex, relationship, and celebrity writer in New York City. From running away from the "perfect" future husband(s), to interviewing A-list stars while contemplating an abortion, to bypassing men entirely to have a baby with an anonymous sperm donor, to partnering up with a sexy enigma while extremely pregnant and eventually finding a soulmate whom she swears she'll never marry, Alyssa's essays paint a deeply genuine, romantic, and uproarious portrait of a woman who lives by her own paradigm of love and lust, and who refuses to settle or sacrifice her fierce inner-spirit, sometimes to her own regret and detriment. Through her stories, confessions, and columns, she shares all the beautiful, embarrassing, and emotional details of her bleeding heart and busy bedroom.

This Might Be Too Personal is like having (several) drinks with your best friend who has seen, heard, and done everything. Literally, everything. Told with a refreshing candor with jolts of humor, comforting relatability, and irresistible energy, Alyssa's book is the ultimate meditation on living an authentic life with big feelings, hard decisions, and the small victories and painful mistakes of motherhood, womanhood, and profound independence.
About the Author
---
ALYSSA SHELASKY is the editor of New York Magazine's Sex Diaries and the author of Apron Anxiety. She is also starring in and producing the Sex Diaries docuseries on HBO. She has written for numerous publications including the New York Times, People, Town & Country, Women's Health, Refinery29, Cosmopolitan, and Glamour magazine. She lives with her family in Brooklyn Heights.
Praise For…
---
"A lot of writers preach about being 'vulnerable' and 'brave' and 'badass,' but Alyssa simply lives that way—and it's inspiring. The essays in This Might Be Too Personal are edgy and emotional; they go down fast and feverishly. Alyssa has figured out how to stay wild and cool while designing a life that is grounded and beautiful. She found the sweet spot that so many of us are searching for." —Cat Marnell, New York Times bestselling author of How To Murder Your Life

"Hilarious and inspiring." —Today.com

"The best part about This Might Be Too Personal is Alyssa's voice: authentic, funny, smart, super open, and warm. You'll want to be best friends with her after reading." —GoodMorningAmerica.com

"Shelasky relishes oversharing, which makes for many hilarious and heartfelt moments: you will feel like she is your new best friend. Perfect beach reading." —Booklist

"Whether she's telling you about dating a Greek dentist, hanging out with Sarah Jessica Parker, or having a baby on her own, Alyssa Shelasky grabs your attention and won't let go. This Might Be Too Personal is the work of a wise author who has seen it all but remains curious about life." —Vanessa Grigoriadis, contributing writer at New York Times Magazine and author of Blurred Lines

"I love Alyssa's writing. It's so sharp, humble, and hilarious. Her stories are achingly familiar... [This Might Be Too Personal] is a book about making mistakes and breaking hearts (including your own), until finally, joyfully, learning to live life on your own terms. An absolute pleasure to read." —Sarah Treem, creator and showrunner of Showtime's The Affair