Tom Clancy's Op-Center: The Black Order: A Novel (CD-Audio)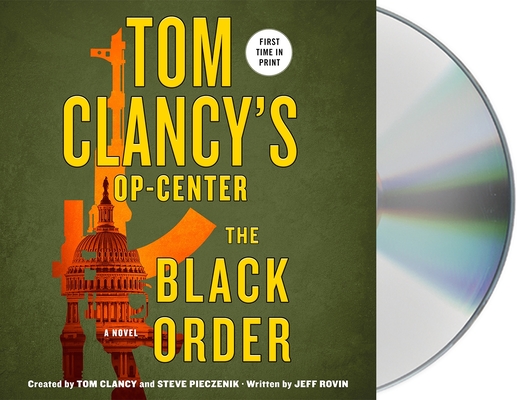 $39.99
Out of Stock - Not Available
Description
---
In a plot ripped from today's headlines, America's elite task force must take down a group of ruthless domestic terrorists determined to paralyze the country through extreme acts of violence in this action-packed new thriller in the bestselling Tom Clancy's Op-Center series.

They are known as the Black Order. Self-proclaimed patriots and survivalists, they refuse to surrender their values and beliefs to the left-leaning cultural and progressive forces threatening their nation. Military veterans and high-tech specialists, they've begun a savage war which includes public assassinations of politicians and celebrities and high-profile bombings, striking without warning or mercy. The Black Order wants nothing less than complete capitulation by the US government, giving them free rein to make their ideologies the law of the land.

Only Op-Center's Black Wasp, a skilled team of military operatives answerable to the President, can defeat these militant revolutionaries. But even as Admiral Chase Williams and his agents force them on the run, the Black Order possesses a weapon of mass destruction that they will not hesitate to unleash against millions of innocent civilians.

A Macmillan Audio production from St. Martin's Griffin
About the Author
---
JEFF ROVIN is the author of more than 150 books, fiction and nonfiction, both under his own name, under various pseudonyms, or as a ghostwriter, including numerous
New York Times
bestsellers and over a dozen of the original Tom Clancy's Op-Center novels.
Tom Clancy's many thrillers include
The Hunt for Red October, Patriot Games
and
Clear and Present Danger
. He died in 2013.
Steve Pieczenik
is an author and co-creator of Tom Clancy's Op-Center series.
Jeff Gurner is a voice, stage and screen actor. He has recorded hundreds of radio and television commercials, video games, and is an award winning audiobook narrator. He is best known for his narration of Patrick Lee and to Karen Miller's The Star Wars Clone Wars series and works by Mark Sullivan and Terry Francona. AudioFile magazine praised Jeff''s "deep, compelling voice and well-acted presentation" and awarded him a 2006 AudioFile Earphones Award for Jennifer Egan's The Keep.

Gurner's theater credits include The Lion King on Broadway, Guys and Dolls, Harold and Maude: The Musical, and A Christmas Story. Television credits include The Good Wife, Mercy, and Law & Order.