The World According to Color: A Cultural History (Hardcover)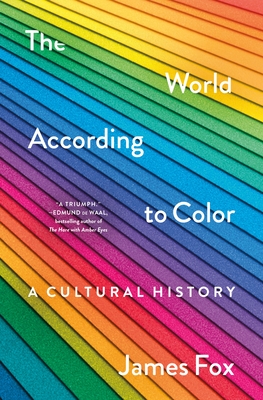 $29.99

Available from our distributor; usually Ships in 1-5 Days
Description
---
A kaleidoscopic exploration that traverses history, literature, art, and science to reveal humans' unique and vibrant relationship with color.

We have an extraordinary connection to color—we give it meanings, associations, and properties that last millennia and span cultures, continents, and languages. In The World According to Color, James Fox takes seven elemental colors—black, red, yellow, blue, white, purple, and green—and uncovers behind each a root idea, based on visual resemblances and common symbolism throughout history.

Through a series of stories and vignettes, the book then traces these meanings to show how they morphed and multiplied and, ultimately, how they reveal a great deal about the societies that produced them: reflecting and shaping their hopes, fears, prejudices, and preoccupations.

Fox also examines the science of how our eyes and brains interpret light and color, and shows how this is inherently linked with the meanings we give to hue. And using his background as an art historian, he explores many of the milestones in the history of art—from Bronze Age gold-work to Turner, Titian to Yves Klein—in a fresh way. Fox also weaves in literature, philosophy, cinema, archaeology, and art—moving from Monet to Marco Polo, early Japanese ink artists to Shakespeare and Goethe to James Bond.

By creating a new history of color, Fox reveals a new story about humans and our place in the universe: second only to language, color is the greatest carrier of cultural meaning in our world.
About the Author
---
James Fox is Director of Studies in History of Art at Emmanuel College, University of Cambridge, and a BAFTA-nominated broadcaster. His many acclaimed BBC television documentaries include programs about British art, Japanese culture, and an enduringly popular history of color in art. The World According to Color is his first book for a trade audience.
Praise For…
---
"This book is a triumph. James Fox's passionate and illuminating exploration of the extraordinary relationship we have with color is itself extraordinary. It is an intellectual feast as well as a visual one—a true biography of color which will delight readers."
—Edmund de Waal, bestselling author of The Hare with Amber Eyes

"Through meticulous research and authoritative writing, Fox helps us to see the world around us in a different light."
—Kirkus Reviews

"A masterwork . . . Infused with descriptions of all sorts of hues and pigments, including ultramarine, ochre, and magenta; presented in wonderfully kaleidoscopic writing; and fresh in its perspective, Fox's history expounds on the symbols, metaphors, traditions, and exploitations of color."
—Booklist (starred review)