Underwater: How Our American Dream of Homeownership Became a Nightmare (Hardcover)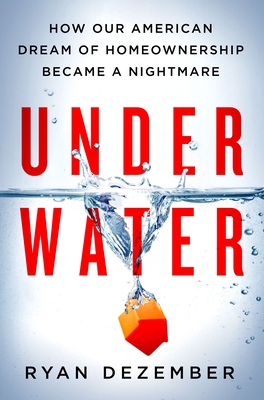 $28.99
Out of Stock - Not Available
Staff Reviews
---
A fascinating look at the 2008 crash / housing crisis as delivered by Ryan Dezember who was both reporting on real estate for the Press-Register and experiencing the rollercoaster first-hand as a homeowner on the Gulf Coast. Interspersing a well-researched report with personal anecdotes, Dezember paints a thorough picture of both the speculation frenzy and the devastation of the crash on Average Joe homeowners. This book was well-written and well-research, terrifying, and wild.
— Holly
Description
---
Winner of the Bruss Real Estate Book Award

His assignment was to write about a real-estate frenzy lighting up the Redneck Riviera. So Ryan Dezember settled in and bought a home nearby himself. Then the market crashed, and he became one of the millions of Americans who suddenly owed more on their homes than they were worth. A flood of foreclosures made it impossible to sell. It didn't help that his quaint neighborhood fell into disrepair and drug-induced despair. He had no choice but to become a reluctant and wildly unprofitable landlord to move on. Meanwhile, his reporting showed how the speculative mania that caused the crash opened the U.S. housing market to a much larger breed of investors.

In this deeply personal story, Dezember shows how decisions on Wall Street and in Washington played out on his street in a corner of the Sunbelt that was convulsed by the foreclosure crisis. Readers will witness the housing market collapse from Dezember's perch as a newspaper reporter. First he's in the boom-to-bust South where a hot-air balloonist named Bob Shallow becomes one of the world's top selling real-estate agents arranging condo flips, developers flop in spectacular fashion and the law catches up with a beach-town mayor on the take. Later he's in New York, among financiers like Blackstone's Stephen Schwarzman who are building rental empires out of foreclosures, staking claim to the bastion of middle-class wealth: the single-family home. Through it all, Dezember is an underwater homeowner caught up in the mess.

A cautionary tale of Wall Street's push to turn homes into assets, Underwater is a powerful, incisive story that chronicles the crash and its aftermath from a fresh perspective—the forgotten, middle-class homeowner.
About the Author
---
Ryan Dezember is a reporter for The Wall Street Journal, writing about financial markets and investors. He previously wrote about the oil industry from the Journal's Houston bureau. Before that he worked as a reporter for the Mobile Register, reporting on the real-estate boom and bust for coastal Alabama's daily newspaper. He lives in Brooklyn, New York.
Praise For…
---
"Well told...what Dezember does have working for him are some wonderfully flamboyant characters and a knack for telling a good story." --New York Times

"Ryan Dezember's study of home buying and selling in America is frightening, enlightening, and infuriating." --Don Noble, Alabama Public Radio

"If you think you've heard the housing bust story, you haven't until you read Dezember's account of the single-family home rental industry that sprung up as a result." --Chris Wetterich, Cincinnati Business Courier

"A unique and incisive portrait of the fallout from the 2008 housing crash that combines investigative journalism with his experiences as an 'underwater' homeowner...This well-informed and wryly humorous account humanizes the story of the financial meltdown without sacrificing big-picture analysis." --Publishers Weekly