Follow Me to Hell: McNelly's Texas Rangers and the Rise of Frontier Justice (Hardcover)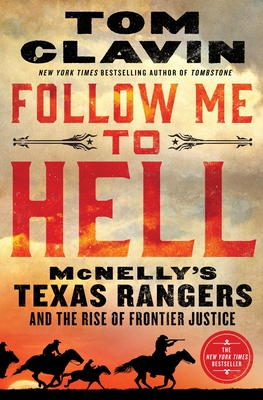 $29.99

Available from our distributor; usually Ships in 1-5 Days
Description
---
THE INSTANT NEW YORK TIMES BESTSELLER

Tom Clavin's Follow Me to Hell is the explosive true story of how legendary Ranger Leander McNelly and his men brought justice to a lawless Texan frontier.

In turbulent 1870s Texas, the revered and fearless Ranger Leander McNelly led his men in one dramatic campaign after another, apprehending cattle thieves, desperadoes, border ruffians, and other dangerous criminals and throwing them in jail or, if that's how they wanted it, six feet under. They would stop at nothing in pursuit of justice, even sending twenty-six Rangers across the border to retrieve stolen cattle—taking on hundreds of Mexican troops with nothing but their Sharps rifles and six-guns. The nation came to call them "McNelly's Rangers."

Set against the backdrop of 200 years of thrilling Texas Rangers history, this page-turner details the tough life along the Texas border that was tamed by a courageous, yet doomed, captain and his team of fearless men.

New York Times bestselling author Tom Clavin takes readers deep into the heart of Texas and beyond in this thrilling true account of some of the most legendary frontier lawmen of all time.
About the Author
---
TOM CLAVIN is a #1 New York Times bestselling author and has worked as a newspaper editor, magazine writer, TV and radio commentator, and a reporter for The New York Times. He has received awards from the Society of Professional Journalists, Marine Corps Heritage Foundation, and National Newspaper Association. His books include the bestselling Frontier Lawmen trilogy—Wild Bill, Dodge City, and Tombstone—and Blood and Treasure with Bob Drury. He lives in Sag Harbor, NY.
Praise For…
---
Praise for Tom Clavin:

"Clavin is one of the most popular and bestselling Western authors writing about the Old West … His pace keeps the story moving forward and he provides details on the historical characters and events that make you want to read more on the topic after [finishing] the book." —True West on Follow Me to Hell

"Clavin knows Western history ... [he] tells a good story." —Library Journal on Follow Me to Hell

"A rollicking tale of a Texas lawman and the iron-jawed contingent that rode with him...Fans of the Wild West and its pistol-packin' miscreants will enjoy Clavin's latest." —Kirkus Reviews on Follow Me to Hell

"Fascinating … this is a stirring account." —Forbes on Follow Me to Hell

"'Lightning Down' has an overarching positivity and celebration of resilience." —AP News

"Absorbing...Fun and revealing." —The Wall Street Journal on Dodge City

"Clavin tacks up the truth like wanted posters in every chapter." —The New York Times Book Review on Wild Bill

"Breezy narrative style...fascinating lore." —NPR on Tombstone