Kelcie Murphy and the Academy for the Unbreakable Arts (Paperback)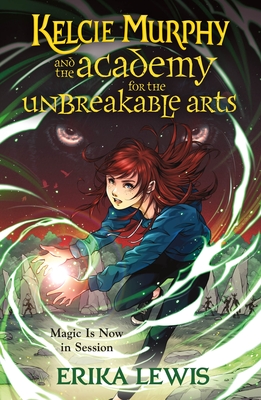 Description
---
The School for Good and Evil meets Amari and the Night Brothers in this debut middle-grade fantasy, Kelcie Murphy and the Academy for the Unbreakable Arts, perfect for readers who've ever wondered: What if Harry Potter had been sorted into Slytherin?

The Otherworld is at war. The Academy for the Unbreakable Arts trains warriors. And Kelcie Murphy—a foster child raised in the human world—is dying to attend.

A place at AUA means meeting Scáthach, the legendary trainer of Celtic heroes. It means learning to fight with a sword. It means harnessing her hidden powers and—most importantly—finding out who her parents are, and why they abandoned her in Boston Harbor eight years ago.

When Kelcie tests into the school, she learns that she's a Saiga, one of the most ancient beings in the Otherworld. Secretive, shunned, and possessed of imposing elemental powers, the Saiga are also kin to the Otherworld's most infamous traitor.

But Kelcie is a survivor, and she'll do whatever it takes to find her parents and her place in their world. Even if that means making a few enemies.

Brimming with Celtic mythology, action, and danger, Erika Lewis's Kelcie Murphy and The Academy for the Unbreakable Arts introduces readers to a new kind of magical school and a warrior who must choose with which side of an epic battle her destiny will lie.
About the Author
---
Erika Lewis grew up in Alexandria, Virginia, where she spent most of her childhood riding her dirt bike through Fort Ward, the Union Army Civil War stomping grounds. She graduated from Vanderbilt University and went on to earn a master's degree from Georgia State University and an advanced certificate in creative writing from Stony Brook University. The author of Game of Shadows, The Color of Dragons, Firebrand and more, The Academy for the Unbreakable Arts is her middle grade debut.
Praise For…
---
"Lewis brings a fresh take on these tropes, incorporating Celtic mythology and lore to craft an—quite literally—Otherworldly hero who will stop at nothing to achieve her goals and who also embodies a relatable persona that readers will undoubtedly connect with." —Booklist, starred review

"Be prepared, it will be hard to take a break from Erika Lewis's The Academy for the Unbreakable Arts. The action leaps off the page, rich in ancient Celtic mythology and taut with emotion, with characters who are flawed, human, and awesomely gifted. Middle-grade readers with a thirst for high adventure with all the feels, in the tradition of J. K. Rowling, Tamora Pierce, and Lloyd Alexander, have reason to rejoice." —Peter Lerangis, New York Times bestselling author of The Seven Wonders series

"You'll be on the edge of your seat while reading, and while waiting for more to come in this rich and engaging world. Perfect for fans of Rick Riordan and the Harry Potter series." —Janet Fox, award-winning author of The Charmed Children of Rookskill Castle

"Fast-paced and oh-so-fun, this exciting story celebrates the importance of friendship and the power of kids' choices. I couldn't put it down!" —Alyssa Colman, author of The Gilded Girl

"With vivid world-building and a marvelous blend of mythology and magic, Kelcie Murphy and the Academy for the Unbreakable Arts is a rip-roaring ride pulsing with the heart of its fierce and tenacious heroine! The opening installment of this epic new fantasy series will leave readers clamoring for more." —Alysa Wishingrad, author of The Verdigris Pawn

"Move over Hogwarts, there's a spellbinding new school in town. Enroll yourself for myth, mystery and magic. Not to be missed!"—Cavan Scott, New York Times bestselling author of Star Wars: The Rising Storm

"...Successfully centers a resilient heroine tapping into her unrealized potential." —Publishers Weekly