The Gilded Wolves: A Novel (Paperback)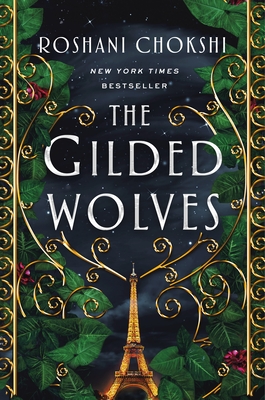 List Price: $11.99
Our Price: $10.99
(Save: $1.00 8%)
Other Books in Series
This is book number 1 in the The Gilded Wolves series.
Description
---
*AN INSTANT NEW YORK TIMES BESTSELLER*

First in a "wildly inventive and wildly representative" (The New York Times Book Review) historical fantasy series, Roshani Chokshi's The Gilded Wolves follows the exploits of a found family—six societal outcasts tasked with stealing a powerful artifact that can alter their lives for the better, but at the cost of breaking the world.

All eyes are on Paris where the Exposition Universelle World Fair is to be held. Hidden among the technological marvels and artistic creations on display is an item of unimaginable power—a Babel fragment that would enable those who wield it with magical Forging abilities over nature's elements.

Séverin Montagnet-Alarie's birthright was stolen from him. Now, to reclaim his rightful place among France's elite, he must obtain the Babel fragment for the Order. It is a heist that will require the ingenuity and skills of those with nothing to lose and everything to gain: Enrique, a gifted historian and wordsmith, caught between two worlds; Zofia, a brilliant Forging artist and engineer, separated from her family; Hypnos, a rival aristocrat who needs an ally among the Order; Tristan, an extraordinary Forger raised at Séverin's side, loyal to his adopted brother's quest; and Laila, the mysterious dancer and espionage artist who stole Séverin's heart in a moment of vulnerability he couldn't afford.

But as the dangerous risks of their escapade surge, Séverin finds himself torn between his desire for revenge against all those who wronged him and the people he's deliberately placing in harm's way—including the woman he loves and fears to lose…

"A masterpiece of imagination." —New York Times bestselling author Stephanie Garber

"Part political misadventure, part puzzle and thoroughly charming, with a band of rapscallions and a string of surprises." —New York Times bestselling author Holly Black

"[A] smart, dark adventure." —New York Times bestselling author Adrienne Young
About the Author
---
Roshani Chokshi is the author of commercial and critically acclaimed books for middle grade and young adult readers that draw on world mythology and folklore. Her work has been nominated for the Locus and Nebula awards, and has frequently appeared on Best of The Year lists from Barnes and Noble, Forbes, Buzzfeed and more. Her New York Times bestselling series include The Star-Touched Queen duology, The Gilded Wolves, and Aru Shah and The End of Time, which has been optioned for film by Paramount Pictures.
Praise For…
---
**New York Times Bestseller**

**Indie Next Pick for the Winter 2018-2019 Kid' List!**

"Reading Chokshi's prose is like sinking deeply into the overstuffed arms of a plush, purple velvet sofa. Her lavish descriptions of extravagant dinner parties, furtive meetings and daring escapes wrap you in sumptuous sensory detail...this ingenious take on colonialism and cultural appropriation is wildly inventive and wildly representative." - The New York Times Book Review

"Chokshi has created an inclusive and authentic cast with obvious chemistry and affection for one another and infuses the tale with witty banter and twists. A delectably intriguing adventure for all teen shelves." — SCHOOL LIBRARY JOURNAL, Starred Review

"Chokshi delivers a thrilling, gritty new fantasy set in an alternate nineteenth century Paris… Chokshi shines as a master storyteller in her newest novel; the setting, world building, plot, and conflict are all staggering. However, the elements that perhaps shine the most are the history, riddles, mysteries, and science, woven together in a world brimming with power and magic." — BOOKLIST, Starred Review

"Leigh Bardugo's Six of Crows and Dan Brown's The Da Vinci Code converge in this dazzling new fantasy… An opulent heist adventure that will leave readers voracious for more." — KIRKUS, Starred Review

"Evocative writing, sumptuous set pieces, and vividly sketched, authentically flawed characters distinguish this immersive tale of found family and star-crossed romance. Kaleidoscopic narration complements the intricate, high-stakes plot and allows Chokshi to showcase numerous aspects of her richly imagined universe all the way to the closing cliff-hanger." — PUBLISHERS WEEKLY, Starred Review

"In this delicious first entry in a new series from a veteran YA author, readers will find sumptuous visuals, deep characters and a maddening eleventh-hour twist." — BOOKPAGE, Starred Review

"The Gilded Wolves sets up a fantastical great heist with a series of clues and problems the well-developed, diverse group of teens must decipher. Chokshi's world is lush and her characters distinct and engaging—this first in a new series is as sharp and lustrous as the title suggests." — SHELF AWARENESS, Rave Review

"Reading Chokshi's prose is like sinking deeply into the overstuffed arms of a plush, purple velvet sofa. Her lavish descriptions of extravagant dinner parties, furtive meetings and daring escapes wrap you in sumptuous sensory detail...this ingenious take on colonialism and cultural appropriation is wildly inventive and wildly representative." - NEW YORK TIMES BOOK REVIEW

"There can be no doubt that Chokshi has grown as a writer with each book, and 'The Gilded Wolves' takes us to a new level of intrigue." — NPR.ORG

"Chokshi's writing is vivid and lovely." — ENTERTAINMENT WEEKLY

"Thrilling and gorgeous, The Gilded Wolves is another captivating book from one of YA's most brilliant voices." — PASTE, "10 Best YA Novels of January"

BUSTLE names The Gilded Wolves one of the "28 Young Adult Books Coming Out In 2019 That Will Seriously Get You Pumped For The New Year"

HYPABLE calls The Gilded Wolves one of the "2019 Winter Books Not to be Missed"

BOOKISH, "Winter 2019's Most Anticipated Young Adult Sci-Fi & Fantasy"

SHEREADS, "Most Anticipated Books of 2019"

GOODREADS, "Best of January" and "Most Anticipated YA"

POPSUGAR, "10 of the Most Anticipated Books of 2019 — All by Women"

PARADE names The Gilded Wolves one of "10 Buzzworthy YA Books to Read in 2019"

The Gilded Wolves is one of THE NERD DAILY's "Most Anticipated 2019 Releases"

BOOKBUB, "The Best Teen Books Coming in 2019"

THE HOLLYWOOD REPORTER includes The Gilded Wolves in a column on "new books that should be turned into movies"

CULTURESS, "19 books we can't wait to get our hands on"

"This rag-tag team will face danger, deception, puzzles, and of course delicious secrets that hide in the opulence of Paris. This is a story you will not soon forget." — THE NERD DAILY

"Beautiful cover? Check. Beautiful prose? Check. And this book is gloriously diverse.""
– BOOKRIOT, "3 More LGBQT+ YA Books to Read in 2019"

"You'll fall in love with these characters, the world they live in, and all the promises it holds."
— WE SO NERDY

"A gorgeously layered story, with characters that make you laugh and ache and cheer." – Renée Ahdieh, New York Times bestselling author of The Wrath and The Dawn

"A masterpiece of imagination. You will want this book to steal your heart so that you will never have to leave this story." Stephanie Garber, New York Times bestselling author of Caraval

"This is a book to swan dive into, swim around in, luxuriate in. Trust me, you won't want to come out" – Laini Taylor, New York Times bestselling author of Strange The Dreamer

"The Gilded Wolves is part political misadventure, part puzzle and thoroughly charming, with a band of rapscallions and a string of surprises!" – Holly Black, New York Times bestselling author of The Cruel Prince

"The Gilded Wolves is the smart, dark adventure YA readers have been waiting for." – Adrienne Young, New York Times bestselling author of Sky In The Deep

"The Gilded Wolves has it all: magical Belle Époque Paris, dark and glittering prose, a cast of characters that will steal your heart inside their other heists. This is a book I wish I'd written." – Ryan Graudin, award-winning author of Wolf By Wolf