Revival: The Sixteenth Century (1936) (Routledge Revivals) (Hardcover)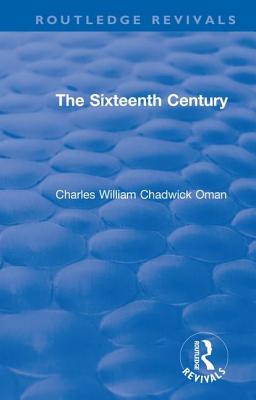 This item is currently unavailable and can not be ordered.
Description
---
Often some one precious detail of war lurks in the middle of a book of the most unlikely description. After turning over tens of thousands of leaves in Latin, French, Italian, German, English, Spanish and Dutch print, one is left with an accumulation of observed phenomena - religious, cultural, literary, psychological - which the mind is forced to coordinate into some sort of general conclusions. As the author has stated in some of the pages which follow this preface, the author is profoundly averse to formulating 'philosophies of history', and though the author feels impelled to put in order the impression which much reading and pondering have left with me, the author does not pretend to link these impressions into any theory of evolution. There are as many 'ifs' in history as 'therefores'.
About the Author
---
Charles Oman was elected the Chichele Professor of Modern History at Oxford in 1905, in succession to Montagu Burrows. He was also elected to the FBA that year, and served as President of the Royal Historical Society (1917- 1921), the Numismatic Society and the Royal Archaeological Institute. Oman's academic career was interrupted by the First World War, during which he was employed by the government's Press Bureau and the Foreign Office. He became an honorary fellow of New College in 1936, and received the honorary degrees of DCL (Oxford, 1926) and LL.D (Edinburgh, 1911 and Cambridge, 1927). He died at Oxford aged 86. He was awarded the Medal of the Royal Numismatic Society in 1928.