The Widow (Paperback)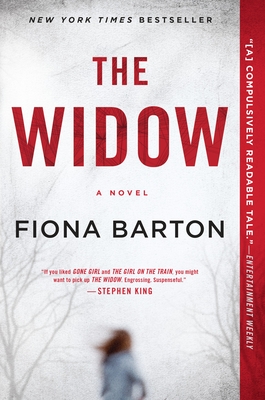 March 2016 Indie Next List
---
"Readers on the hunt for the newest, hottest thriller can take heart: Barton's debut novel is impeccably paced and quietly terrifying, sure to fill any void left after reading The Girl on the Train. Jean Taylor is reeling over the loss of her husband, but the man she knows and the man the police know are two very different people. Told in alternating voices, The Widow is perfect for fans of Paula Hawkins and Tana French and will have readers on the edge of their seats."
— Annie B. Jones (W), The Bookshelf, Thomasville, GA
Description
---
THE NEW YORK TIMES BESTSELLER

"A twisted psychological thriller you'll have trouble putting down."—People

"If you liked Gone Girl and The Girl on the Train, you might want to pick up The Widow by Fiona Barton. Engrossing. Suspenseful."—Stephen King

Following the twists and turns of an unimaginable crime, The Widow is an electrifying debut thriller that will take you into the dark spaces that exist between a husband and a wife.

There's a lot Jean hasn't said over the years about the crime her husband was suspected of committing. She was too busy being the perfect wife, standing by her man while living with the accusing glares and the anonymous harassment.
 
Now her husband is dead, and there's no reason to stay quiet. There are people who want to hear her story. They want to know what it was like living with that man. She can tell them that there were secrets. There always are in a marriage.
 
The truth—that's all anyone wants. But the one lesson Jean has learned in the last few years is that she can make people believe anything...

An NPR Best Book of the Year
One of The Wall Street Journal's 5 "Killer Books" of the Year
A Publishers Weekly Best Book of the Year

Includes a Readers Guide and an excerpt of Fiona Barton's The Child. 
About the Author
---
Fiona Barton, the New York Times bestselling author of The Widow, The Child, and The Suspect, trains and works with journalists all over the world. Previously, she was a senior writer at the Daily Mail, news editor at the Daily Telegraph, and chief reporter at the Mail on Sunday, where she won Reporter of the Year at the British Press Awards.
Praise For…
---
"If you liked Gone Girl and The Girl on the Train, you might want to pick up The Widow by Fiona Barton. Engrossing. Suspenseful."—Stephen King

"The ultimate psychological thriller! Barton carefully unspools this dark, intimate tale of a terrible crime, a stifling marriage, and the lies spouses tell not just to each other, but to themselves in order to make it through."—Lisa Gardner, #1 New York Times bestselling author of Find Her and Right Behind You
 
"A twisted psychological thriller you'll have trouble putting down."—People
 
"Fiona Barton's debut novel, The Widow, is being compared to Gone Girl, Before I Go To Sleep and The Girl on the Train. It's actually better than them all."—Fort Worth Star-Telegram
 
"[A] twisty tale...with a mesmerizing if unreliable narrator...that will blow your mind."—Oprah.com
 
"[Jean is] a fascinating puzzle...Barton knows how to ramp up tension."—The New York Times Book Review

"[Barton] delivers the goods...Richly character-driven in a way that is both satisfying and engrossing."—The Washington Post
 
"[The Widow] will keep you in suspense late into the night."—Good Housekeeping
 
"Barton skillfully weaves a tale that reminds us that yes, we can be deceived by others, but we can just as easily deceive ourselves."—USA Today
 
"Both a taut reconstruction of a crime and a ruthless examination of marriage...A smartly crafted, compulsively readable tale about the lies people tell each other, and themselves, when the truth is the last thing they really want to know."—Entertainment Weekly
 
"Barton's writing is compelling and top-notch."—Associated Press
 
"Gone Girl fans will relish this taut, psychological thriller."—US Weekly
 
"The Widow never loses sight of the dark secrets that define ordinary lives, the gray areas where deception gives way to the truth. This is one book in which such subtleties matter as much as the plot."—Chicago Tribune
 
"[Barton's] journalistic eye is what makes this debut novel so assured and compelling."—NPR.org
 
"Every once in awhile, a suspense thriller comes along that grips readers and won't let go....Joining that mini-library is The Widow by Fiona Barton, a thoroughly chilling novel with one of the most unreliable narrators in recent memory."—The Sacramento Bee
 
"I read The Widow with an increasing sense that I was turning the pages through next year's The Girl on the Train. It has all the ingredients for a bestseller—a clear proposition and a central premise that will stimulate word of mouth."—The Bookseller (UK)
 
"A twisty psychological suspense that held me spellbound. Fiona Barton delves into the darkest reaches of the husband and wife relationship and the secrets they keep."—Linda Castillo, New York Times bestselling author of Among the Wicked