Conquistadores: A New History of Spanish Discovery and Conquest (Hardcover)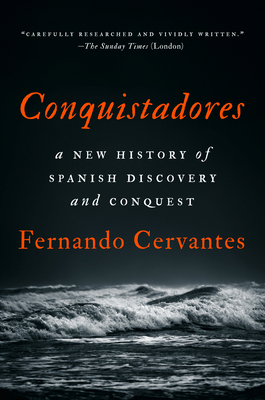 $35.00

Available from our distributor; usually Ships in 1-5 Days
Description
---
A sweeping, authoritative history of 16th-century Spain and its legendary conquistadors, whose ambitious and morally contradictory campaigns propelled a small European kingdom to become one of the formidable empires in the world
 
"The depth of research in this book is astonishing, but even more impressive is the analytical skill Cervantes applies. . . . [He] conveys complex arguments in delightfully simple language, and most importantly knows how to tell a good story." —The Times (London)
 
Over the few short decades that followed Christopher Columbus's first landing in the Caribbean in 1492, Spain conquered the two most powerful civilizations of the Americas: the Aztecs of Mexico and the Incas of Peru. Hernán Cortés, Francisco Pizarro, and the other explorers and soldiers that took part in these expeditions dedicated their lives to seeking political and religious glory, helping to build an empire unlike any the world had ever seen. But centuries later, these conquistadors have become the stuff of nightmares. In their own time, they were glorified as heroic adventurers, spreading Christian culture and helping to build an empire unlike any the world had ever seen. Today, they stand condemned for their cruelty and exploitation as men who decimated ancient civilizations and carried out horrific atrocities in their pursuit of gold and glory.
 
In Conquistadores, acclaimed Mexican historian Fernando Cervantes—himself a descendent of one of the conquistadors—cuts through the layers of myth and fiction to help us better understand the context that gave rise to the conquistadors' actions. Drawing upon previously untapped primary sources that include diaries, letters, chronicles, and polemical treatises, Cervantes immerses us in the late-medieval, imperialist, religious world of 16th-century Spain, a world as unfamiliar to us as the Indigenous peoples of the New World were to the conquistadors themselves. His thought-provoking, illuminating account reframes the story of the Spanish conquest of the New World and the half-century that irrevocably altered the course of history.
About the Author
---
Fernando Cervantes is a professor of early modern studies at the University of Bristol, specializing in the intellectual and religious history of early modern Spain and Spanish America. His previous books include The Devil in the New World; Spiritual Encounters; and Angels, Demons and the New World. Dr. Cervantes has held positions and fellowships at the University of London; UC Santa Barbara; Princeton University; UCLA; and the Liguria Study Centre for the Arts and the Humanities in Bogliasco, Italy. He was also the editor for Routledge's Religious Cultures in the Early Modern World series.
Praise For…
---
A Sunday Times and Times Literary Supplement Best Book of the Year
 
"Masterful . . . Cervantes marshals an enormous array of primary and secondary sources to tell the story of the decades that followed Christopher Columbus' arrival on an island off what is now Cuba."
—NPR

"Spellbinding . . . [Conquistadores is written] with enviable clarity and succinctness, and displays a remarkable command of a vast literature that includes primary as well as secondary sources. Despite its more controversial features and in part because of them, this is the book that readers interested in the Hispanic conquest of America will turn to for a long time to come."
—The New York Review of Books

"Enlightening . . . A vivid portrayal of a clash of very different cultures, each equally astonishing to the other . . . Conquistadores makes for fascinating reading."
—Financial Times
 
"Cervantes skillfully constructs a complex story, packed with disturbing nuance, which obliterates that simplistic narrative of brutal conquistadors subduing innocent indigenes. The depth of research in this book is astonishing, but even more impressive is the analytical skill Cervantes applies to his discoveries. He is equally at home in cultural, literary, linguistic, artistic, economic and political history. All this sophisticated scholarship could so easily result in an unwieldy book, easy to admire, but difficult to read. Cervantes, however, conveys complex arguments in delightfully simple language, and most importantly knows how to tell a good story."
—The Times (London)
 
"Superlative."
—The Times Literary Supplement (London)
 
"Carefully researched and vividly written . . . [Cervantes] is brilliant at showing the wider context: the fall of the emirate of Granada, the eruption of Lutheranism, the rivalry between Spain, France and the Ottomans."
—Sunday Times (London)

"[A] nuanced, compelling narrative that cuts against the historical grain."
—Booklist (starred)

"Colorful and sophisticated . . . A richly provocative retelling of the deeds of the conquistadores and the spirit of their age. Cervantes is a gifted scholar and storyteller who offers readers no easy moral clarity."
—Library Journal

"A swashbuckling narrative . . . [and] an entertaining yet nuanced account of one of history's most earth-shaking military adventures."
—Publishers Weekly
 
"Lively, complex, compelling . . . Cervantes is too good a historian to try to whitewash the half-century of conquistador activities that is his focus. Atrocities accompanied conquistadores wherever they went, and Cervantes seldom shies away from detailing and condemning them. . . . This book is a terrific read. . . . I could not put it down."
—Matthew Restall, Literary Review
 
"Superb . . . Conquistadores tells the story of the discovery and conquest of the New World, and tells it very well. His portraits of Cortés, Pizarro, Hernando de Soto and the other conquistadors are as vivid as one could wish."
—The Critic
 
"Cervantes places the conquest of the Americas in Spain's political context. . . . A rich portrait of a period that is almost unimaginable today . . . a persuasive reassessment."
—The Spectator
 
"A veritable compendium on the Spanish conquest of the Americas . . . Professor Cervantes is a talented man, and his book is staggeringly thorough."
—BBC History Magazine
 
"A superb account of a world-changing half-century, interweaving narrative and analysis to compelling effect." —Peter Marshall, author of Heretics and Believers: A History of the English Reformation
 
"With reason, evidence, common sense, uncompromising candour, and disciplined imagination, Fernando Cervantes makes the conquistadores believable. He guides us expertly through the moral labyrinth of empire, amid warts and wonders, sins and saints, crimes and creativity."
—Felipe Fernández-Armesto, author of Out of Our Minds: What We Think and How We Came To Think It
 
"A brilliant account of the men, from Columbus to Pizarro, who conquered and settled most of Central and South America. Fernando Cervantes tells a complex, subtle and persuasive story of their actions. It is a story not only of simple, brutal, conquest—but also of cooperation, of shifting alliances, of the infiltration of Europeans into regions which had for long been zones of almost ceaseless conflict, and of prolonged, if ultimately frustrated, attempts to build a society which would fuse European and indigenous legal, social and political systems. The entire history of European imperialism and colonization is in urgent need of complete revision. The Conquistadores is an evocative, courageous, and immensely readable beginning."
—Anthony Pagden, author of The Enlightenment: And Why It Still Matters
 
"Written with narrative flair and meticulous erudition, this splendid book strips away the stubborn fantasies and prejudices which tend to characterise accounts of the Spanish conquest of the Americas. Drawing on up-to-date scholarship, it describes the late-medieval mindset of the conquistadors and analyses the sophisticated political culture of the Spanish Monarchy to show how, from the violent encounters of mutually alien peoples, there emerged multi-ethnic and culturally diverse societies which proved to be surprisingly resilient and stable over three hundred years. This is an indispensable contribution to our understanding of the historical roots of our globalized world."
—Edwin Williamson, author of The Penguin History of Latin America