A Really Good Day: How Microdosing Made a Mega Difference in My Mood, My Marriage, and My Life (Paperback)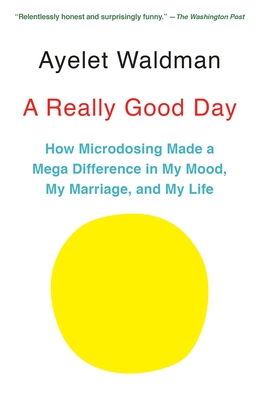 $16.95
Out of Stock - Not Available
Description
---
"Relentlessly honest and surprisingly funny." – The Washington Post

"Genuinely brave and human." —The New York Times

"Wildly brilliant." —Elle

The true story of how a renowned writer's struggle with mood storms led her to try a remedy as drastic as it is forbidden: microdoses of LSD. Her fascinating journey provides a window into one family and the complex world of a once-infamous drug seen through new eyes.

When a small vial arrives in her mailbox from "Lewis Carroll," Ayelet Waldman is ready to try anything. Her depression has become intolerable, severe and unmanageable; medication has failed to make a difference. Married with four children and a robust career, she "should" be happy, but instead her family and her work are suffering at the mercy of her mood disorder. So she opens the vial, places two drops on her tongue, and becomes part of a burgeoning underground group of scientists and civilians successfully using therapeutic microdoses of LSD. As Waldman charts her experience over the course of a month, during which she achieved a newfound feeling of serenity, she also explores the history and mythology of LSD, the cutting-edge research into the drug, and the byzantine policies that control it. Drawing on her experience as a federal public defender, and as the mother of teenagers, and her research into the therapeutic value of psychedelics, Waldman has produced a book that is candid, revealing and completely enthralling.
About the Author
---
AYELET WALDMAN is the author of the novels Love and Treasure, Red Hook Road, Love and Other Impossible Pursuits, and Daughter's Keeper, as well as of the essay collection Bad Mother: A Chronicle of Maternal Crimes, Minor Calamities, and Occasional Moments of Grace, and the Mommy-Track Mystery series. She was a federal public defender and taught at Loyola Law School and the UC Berkeley School of Law, where she developed and taught courses on the legal implications of the war on drugs. She lives in Berkeley, California, with her husband, Michael Chabon, and their four children.
Praise For…
---
"Genuinely brave and human… In normalizing the conversation about LSD, she may one day help others feel normal." —Jennifer Senior, The New York Times 

"A wildly brilliant, radically candid, and rigorous daybook of [Waldman's] life-changing, last-resort journey." —Lisa Shea, Elle

"Relentlessly honest and surprisingly funny." —Sharon Peters, USA Today

"An intriguing and thorough look at the therapeutic possibilities of an illegal drug... Engaging and deeply researched." —Nora Krug, The Washington Post 

"Smart, outspoken, provoking, and funny… Poignant, sometimes hilarious... Waldman calls for renewed research and drug-law reform in this informative, candid, altogether irresistible quest." —Donna Seaman, Booklist
 
"Honest and intelligent… A humane, well-reasoned, and absolutely necessary argument for a major overhaul of America's drug policy. The book triumphantly coheres in a lucid manifesto of how and why the racist, immoral undertaking called the War on Drugs has failed… Passionate, persuasive." —Claire Vaye Watkins, The New Republic