Loot: Britain and the Benin Bronzes (Revised and Updated Edition) (Paperback)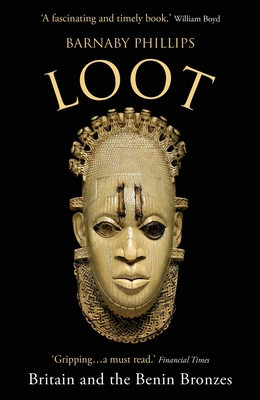 $17.95

Available from our distributor; usually Ships in 1-5 Days
Description
---
A tragic story of the British empire run amok and the plunder of great works of art

A Prospect Best Book of 2021

'A fascinating and timely book.' William Boyd

'Gripping…a must read.' FT

'Compelling…humane, reasonable, and ultimately optimistic.' Evening Standard

'[A] valuable guide to a complex narrative.' The Times

In 1897, Britain sent a punitive expedition to the Kingdom of Benin, in what is today Nigeria, in retaliation for the killing of seven British officials and traders. British soldiers and sailors captured Benin, exiled its king and annexed the territory. They also made off with some of Africa's greatest works of art.

The 'Benin Bronzes' are now amongst the most admired and valuable artworks in the world. But seeing them in the British Museum today is, in the words of one Benin City artist, like 'visiting relatives behind bars'. In a time of huge controversy about the legacy of empire, racial justice and the future of museums, what does the future hold for the Bronzes?
About the Author
---
Barnaby Phillips spent over twenty-five years as a journalist, reporting for the BBC from Mozambique, Angola, Nigeria and South Africa before joining Al Jazeera English. He is the author of Another Man's War: The Story of a Burma Boy in Britain's Forgotten African Army and Loot: Britain and the Benin Bronzes. He grew up in Kenya and now lives in London.
Praise For…
---
'Gripping…a must read.'
— FT

'[A] balanced reconstruction of the Benin saga and probes the difficult choices facing European – and Nigerian – museums… Phillips excels at tracing the roundabout ways in which objects could find their way into museums.'
— TLS

'The storytelling is crisp, balanced and authoritative… As Britain continues to twist on the thorny issue of racism…this book's laser-sharp focus on the casenotes from one instance of colonial cruelty allows for a much more informed understanding of the wider issue. Whereas before the now highly valuable Benin Bronzes might have had us looking in the attic for some forgotten heirloom, perhaps now we are left examining our consciences.'
— Tim Butcher, Spectator

'Mr Phillips, a veteran British correspondent in Africa who knows Nigeria well, adds new and much-needed context to the story of the Edo empire and its bloody finale… Mr Phillips is at pains to show how deeply the Edo people feel the loss of their physical culture… But Mr Phillips is clear-sighted about the political and financial obstacles that must still be overcome.'
— Economist

'His compelling book is full of African voices… It is balanced, sternly critical of the Brits when that is appropriate, but at the same time humane, reasonable, and ultimately optimistic.'
— Evening Standard

'[A] valuable guide to a complex narrative… Throughout this tortured history, Phillips writes with journalistic detail, gathering his accounts from many sources, attempting fairness.'
— The Times

'Damning'
— Prospect, Best Books of 2021

'A veteran journalist based for years in Africa, Mr. Phillips has written a humane and thoughtful book, devoid of the sort of posturing that mars the debate over the repatriation of objects brought to the West during the colonial era.'
— Wall Street Journal

'Vivid, dramatic and colourful, Loot is a story of empire running amok. It still has huge resonance in the debate about colonialism and racism today.'
— Kwasi Kwarteng, MP and author of Ghosts of Empire and War and Gold

'Persuasive… Phillips is scrupulously fair yet damning. He points to the racist hypocrisy that rationalised colonial plunder…[and] covers the ritzy, often clandestine, history of the Bronzes on the western market, where some objects have been sold for up to £10m. Above all, his tale is one of competing ways of assessing material culture.'
— Prospect

'This timely, thoughtful and beautifully crafted volume deftly guides us through a truly astounding passage of events. These are the kind of histories that change the way that we look at things we thought we knew – whilst shocking us at the things that we simply hadn't grasped.'
— Gus Casely-Hayford, Director of V&A East and former Director of the Smithsonian National Museum of A

'A fascinating and timely book. A brilliant model of expertly marshalled historical research and compelling narrative.'
— William Boyd, author of Any Human Heart and A Good Man in Africa

'Reading Barnaby Phillips's Loot is like walking a sniffing dog through the minds, homes, and storerooms of government agents, military adventurers, museums, art dealers, and collectors… Brilliant and evidenced-based… It is a highly recommended book that will thrill the reader to the last page.'
— Dr Uyilawa Usuanlele, Associate Professor of African History, State University of New York

'This is a thoroughly researched, well written and timely contribution to the live debate about cultural restitution. Accessible yet nuanced, we hear the voices of a contested history from the looters themselves and the bronze casters of Benin City, to the leaders of the world's major cultural institutions and so many other players in this drama. Barnaby takes us on a journey raising important questions about empire and the meaning of art, civilisation and culture.'
— Clive Myrie, BBC Chief Correspondent and Presenter

'Phillips weaves a compelling and evocative narrative from the off, peopled by a cast that propels the story forward, sending the reader on a voyage of discovery that raises some very important questions indeed… accessible, packed with drama and utterly fascinating. It should appeal to a wide audience, from those with an interest in the history of colonialism to art historians and readers who are simply looking for a book that will be difficult to put down.'
— All About History

'Well-balanced and highly readable.'
— Peter Frankopan, Air Mail

'Brilliant'
— South African Mail and Guardian

'Rarely have books like Loot focussed so in-depth on the perspectives of Africans. As Loot makes clear, whether in the form of Nollywood films or oral histories handed down across generations, Nigerians have had a lot to say about the Benin Bronzes… Phillips kicks off his stylish tome with an in-depth history of the Kingdom of Benin… he paints a touching portrait of the kingdom and the people who inhabited it… it's possible that a book like Loot could offer some readers the context needed to get behind Phillips's cause.'
— Art News

'Debate continues to rage over whether the Benin Bronzes held in London's British Museum should be returned to Africa. Barnaby Phillips focuses instead on their origins, investigating their medieval authors, and what they can tell us about Africa's culture and history.'
— BBC History

'For the first time a comprehensive account of the famed Benin Bronzes, from their creation to their pillaging by British troops to subsequent attempts at recovery. Phillips writes with ease and erudition, highlighting the many complexities that arise with each attempt at addressing this historical injustice.'
— Alexander Herman, The Art Newspaper

'Readers interested in the diversity of Nigerian views about the Benin Bronzes will be better served by [Loot]… Phillips's incorporation of local perspectives produces a nuanced picture.'
— International Journal of Cultural Property