Kusama: Cosmic Nature (Hardcover)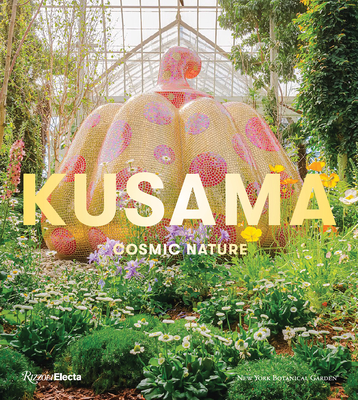 $40.00

Available from our distributor; usually Ships in 1-5 Days
Description
---
Experience the brilliant artist's lifelong obsession with nature and immersion in gardens, a bedrock of her hugely influential work.


Yayoi Kusama's work is the product of an infinite curiosity and obsessive drive to create. Throughout the artist's long and varied career, there is one persistent yet little-studied through line—her deep engagement with nature. From early sketches depicting flowers at her family's plant nursery in Japan, to her most recent monumental sculptures of botanical forms poised to take flight, Kusama consistently calls our attention to the patterns, connections, and cycles of living things that are not always visible.
KUSAMA: Cosmic Nature is the accompanying catalogue to the first comprehensive exploration of the artist's enduring fascination with the natural world, exhibited across the 250-acre landscape of The New York Botanical Garden. The exhibition examines her lifelong awareness and attunement to nature, which serves not merely as a source of inspiration, but is an integral source of power for her artistic language. This profound life force pervades all of Kusama's work, from studies of the molecular to contemplations of the universal, resulting in a transcendent, cosmic nature.
Exhibition guest curator Mika Yoshitake, an independent scholar specializing in postwar Japanese art, and Joanna L. Groarke, NYBG exhibitions curator, catalogue co-editors, bring together essays by art historians, curators, and a scientist, who each present unique interpretations of Kusama's engagement with the natural world. Featuring more than 120 drawings, paintings, sculptures, and archival photographs, including stunning views of the works displayed in NYBG's gardens and galleries, KUSAMA: Cosmic Nature offers a new perspective on one of the world's most celebrated contemporary artists.
About the Author
---
Mika Yoshitake is an independent curator, and most recently Curator at the Hirshhorn Museum and Sculpture Garden in Washington, D.C. Alexandra Munroe is Senior Curator at the Solomon R. Guggenheim Museum. Jenni Sorkin is Associate Professor of Contemporary Art History at the University of California, Santa Barbara. Karen Daubmann is Associate Vice President for Exhibitions and Public Engagement at NYBG. Joanna L. Groarke is Director of Public Engagement and Library Exhibitions Curator, NYBG.