Smothered and Covered: Waffle House and the Southern Imaginary (Hardcover)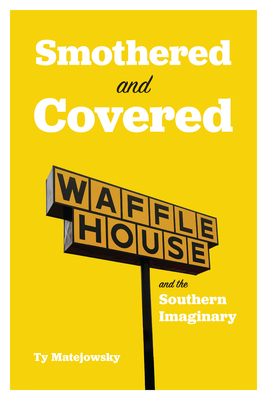 $43.95

Available from our distributor; usually Ships in 1-5 Days
Description
---
A critical meditation of the iconic 24-7 roadside chain and its place in the southern imaginary
 
Waffle House has long been touted as an icon of the American South. The restaurant's consistent foregrounding as a resonant symbol of regional character proves relevant for understanding much about the people, events, and foodways shaping the sociopolitical contours of today's Bible Belt. Whether approached as a comedic punchline on the Internet, television, and other popular media or elevated as a genuine touchstone of messy American modernity, Waffle House, its employees, and everyday clientele do much to transcend such one-dimensional characterizations, earning distinction in ways that regularly go unsung.

Smothered and Covered: Waffle House and the Southern Imaginary is the first book to socioculturally assess the chain within the field of contemporary food studies. In this groundbreaking work, Ty Matejowsky argues that Waffle House's often beleaguered public persona is informed by various complexities and contradictions. Critically unpacking the iconic eatery from a less reductive perspective offers readers a more realistic and nuanced portrait of Waffle House, shedding light on how it both reflects and influences a prevailing southern imaginary—an amorphous and sometimes conflicting collection of images, ideas, attitudes, practices, linguistic accents, histories, and fantasies that frames understandings about a vibrant if also paradoxical geographic region.

Matejowsky discusses Waffle House's roots in established southern foodways and traces the chain's development from a lunch-counter restaurant that emerged across the South. He also considers Waffle House's place in American and southern popular culture, highlighting its myriad depictions in music, television, film, fiction, stand-up comedy, and sports. Altogether, Matejowsky deftly and persuasively demonstrates how Waffle House serves as a microcosm of today's South with all the accolades and criticisms this distinction entails.
 
About the Author
---
Ty Matejowsky is professor of anthropology at the University of Central Florida. He is the author of Fast Food Globalization in the Provincial Philippines.
 
Praise For…
---
"There is no other full-length analysis of Waffle House that focuses on its representation of the southern experience. Matejowsky positions the chain within the context of the southern imaginary to give an original take on a well-known brand. This book will interest academics because it fits within a broader trend in the scholarship that explores restaurants from a historical and contemporary perspective. But it will also delight a more general audience because of its entertaining take on a familiar regional institution."
—Angela Jill Cooley, author of To Live and Dine in Dixie: The Evolution of Food Culture in the Jim Crow South

 "Matejowsky brings humor and heart to his exploration of an iconic Southern institution." —Southern Review of Books