Typical Girls: The Rhetoric of Womanhood in Comic Strips (Studies in Comics and Cartoons ) (Paperback)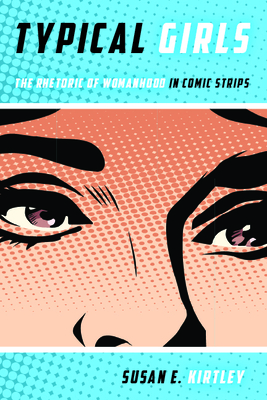 $36.95

Available from our distributor; usually Ships in 1-5 Days
Description
---
Winner, 2022 Charles Hatfield Award from the Comics Studies Society

In the years following 1975, a group of female-created comic strips came to national attention in a traditionally male-dominated medium. Typical Girls: The Rhetoric of Womanhood in Comic Strips uncovers the understudied and developing history of these strips, defining and exploring the ramifications of this expression of women's roles at a time of great change in history and in comic art. This impressive, engaging, and timely study illustrates how these comics express the complexities of women's experiences, especially as such experiences were shaped by shifting and often competing notions of womanhood and feminism. Including the comics of Lynn Johnston (For Better or For Worse), Cathy Guisewite (Cathy), Nicole Hollander (Sylvia), Lynda Barry (Ernie Pook's Comeek), Barbara Brandon-Croft (Where I'm Coming From), Alison Bechdel (Dykes to Watch Out For), and Jan Eliot (Stone Soup), Typical Girls is an important history of the representation of womanhood and women's rights in popular comic strips.
About the Author
---
Susan Kirtley is Professor of English at Portland State University.
Praise For…
---
"Typical Girls provides a delightful tour of seven female comic strip creators and their approaches to their art and their politics in their comic strips. … Kirtley carefully delineates the many feminisms and how the artists illustrate them throughout, maintaining a balance between the relationship of the artists and their protagonist/s to feminisms. … Summing up: Highly recommended." —A. N. Valdivia, CHOICE

"An excellent overview of and rumination upon an aspect of comics that is often overlooked, and as Kirtley stresses is a baton that ought to be taken up by other scholars of both feminism and comics studies. The texts she chooses to examine are both important and telling: important because of the ways in which they reflect and speak back to the culture of the times in which they were produced and telling because they are so few and far-between." —Houman Sadri, MAI: Feminism & Visual Culture

"Eisner-Award-winner Susan Kirtley returns with a must-read book on how female-created comic strips changed the perceptions of womanhood and women's rights. As that fight continues, Kirtley's book offers a reminder of where the struggle has been and where it needs to go from here." —Philip Nel, author of Was the Cat in the Hat Black? The Hidden Racism of Children's Literature, and the Need for Diverse Books

"Typical Girls reads comic strips alongside contemporary discourses of womanhood, motherhood, and feminisms, resulting in vital interpretations that forcefully remind us of how political discourses were expressed in newspaper comics." —Lara Saguisag, author of Incorrigibles and Innocents: Constructing Childhood and Citizenship in Progressive Era Comics