Supergods: What Masked Vigilantes, Miraculous Mutants, and a Sun God from Smallville Can Teach Us About Being Human (Paperback)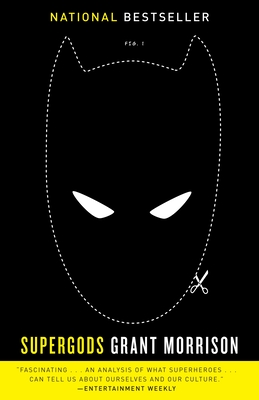 Staff Reviews
---
Grant Morrison is a great, unsung anthropologist of disposable culture. In addition to providing a thorough survey of comic book history, this exploration of a subculture ascendant tells us what a bunch of make-believe freaks, mutants, aliens, robots, and demigods reveals about the species that created them. Not since "The Hero with a Thousand Faces" has an academic work so comprehensively analyzed the mythical structures and archetypes of human storytelling.
— Steven
Description
---
NATIONAL BESTSELLER
 
What Masked Vigilantes, Miraculous Mutants, and a Sun God from Smallville Can Teach Us About Being Human
 
Superman, Batman, Wonder Woman, Iron Man, and the X-Men—the list of names as familiar as our own. They are on our movie and television screens, in our videogames and in our dreams. But what are they trying to tell us? For Grant Morrison, one of the most acclaimed writers in the world of comics, these heroes are powerful archetypes who reflect and predict the course of human existence: Through them we tell the story of ourselves. In this exhilarating work of a lifetime, Morrison draws on art, archetypes, and his own astonishing journeys through this shadow universe to provide the first true history of our great modern myth: the superhero.
 
Now with a new Afterword

About the Author
---
Grant Morrison is one of the most popular and acclaimed contemporary writers of any genre. His long list of credits as a comic-book writer include JLA, New X-Men, Seven Soldiers, Animal Man, Doom Patrol, The Invisibles, We3, The Filth, and Batman: Arkham Asylum, the bestselling original graphic novel of all time. He is also an award-winning playwright and screenwriter.
Praise For…
---
"Seventy years of superhero history with erudite analysis and autobiography thrown in—an account of what it's like to plunge your brain into these fictional universes for decades, refusing to come up for air."—Rolling Stone
 
"Morrison writes with such flair, humor and insight that Supergods may be the season's most winning exploration of pop culture and the creative process."—San Francisco Chronicle
 
"A personal and erudite history of the medium by one of its most intelligent and articulate practitioners . . . Morrison lays out the history of comics with infectious passion and amusement."—Financial Times
 
"A blast, a pure hit of hero worship and deep understanding of comics as mind expansion . . . It's hard not to be swept up in [Morrison's] vision."—Austin American-Statesman
 
"The perfect textbook for fanboys and the mainstream alike."—USA Today