A Shock (Paperback)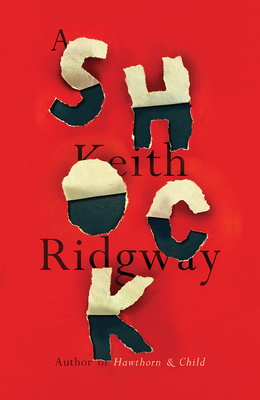 $17.95
Out of Stock - Not Available
Description
---
Ever since Keith Ridgway published his landmark cult novel Hawthorn & Child, his ardent fans have yearned for more
Finally, Ridgway gives us
A Shock
, his thrilling and unsparing, slippery and shockingly good new novel.
      Formed as a rondel of interlocking stories with a clutch of more or less loosely connected repeating characters, it's at once deracinated yet potent with place, druggy yet frighteningly shot through with reality. His people appear, disappear, and reappear. They're on the fringes of London, clinging to sanity or solvency or a story by their fingernails, consumed by emotions and anxieties in fuzzily understood situations. A deft, high-wire act, full of imprecise yet sharp dialog as well as witchy sleights of hand reminiscent of Muriel Spark,
A Shock
delivers a knockout punch of an ending.
      Perhaps Ridgway's most breathtaking quality is his scintillating stealthiness: you can never quite put your finger on how he casts his spell—he delivers the shock of a master jewel thief (already far-off and scot-free) stealing your watch: when at some point you look down at your wrist, all you see is that in more than one way you don't know what time it is…
About the Author
---
Keith Ridgway is a Dubliner and the author of the award-winning novels The Long Falling, The Parts, and Animals, as well as the collection of stories Standard Time and novella Horses.
Praise For…
---
Vibrant, wonderfully written, funny, and deeply troubled. The writing is effortlessly lyrical, venturing into extraordinary, at times beautiful interludes of philosophical observation. Read Hawthorn & Child. Better still read it twice: it's that real, that good, that true.

— Eileen Battersby - The Irish Times

Idiosyncratic and fascinating.
— Zadie Smith

A hundred times worth reading.
— Penelope Fitzgerald

Brilliantly weird. The novel that has impressed, mesmerized and bamboozled me most this past year is Hawthorn & Child.

— Ian Rankin

Once this novel clicks into place, its blend of the heady and the visceral is immersive and compelling.
— Kirkus

Sex, lies, and drugs shape the interlocking and recursive narratives in Irish writer Ridgway's marvelous latest, revolving around a set of neighboring London houses. This one sets the reader's mind ablaze.
— Publishers Weekly (starred review)

Keith Ridgway's A Shock cleanses the word 'masterpiece' of its current debased meaning of whatever sells in large quantities and returns it to its original sense. A novel about connections missed and made, about things that bring us together and keep us separate, about walls (sometimes literal) and breaches (sometimes literal) in them, about what is porous and what is impermeable, A Shock is formally dazzling, stylistically plural and impeccable, and pulsating with meaning. In an overcrowded field that often feels like looking into a full box of matches, it's like opening one such and discovering a diamond inside. Make no mistake, Ridgway's the Real Thing.

— Neel Mukherjee

"A sultry, steamy shock of a novel . . .a provocative collection of nine interlinked stories, jostled together like neighbours on a London street or regulars in a pub, which is where most of his characters cross paths."
— Susie Mesure - The Spectator

Ingeniously slippery—what initially looks like a collection of loosely linked short stories reveals itself to be an expertly constructed house of mirrors....A Shock is the kind of novel that rewards multiple readings, new echoes and connections revealing themselves each time. And, in the same way that one character describes the unsettling, near-hallucinatory side effects of doing certain drugs — "it's just peripheral, corner of the eye stuff, movements" — you get the sense of myriad other lives unfolding around those described here, all tantalizingly out of sight.

— Lucy Scholes - New York Times Book Review

A Shock is a meticulously crafted diorama, built on a scale that's at once claustrophobic and expansive, running through cycles that are by turns bleak, hilarious, chilling and hopeful, and culminating in an ingenious finale that sees it consume its own tale.

— Louie Conway - Vanity Fair

Like Finnegans Wake, only readable.

— John Self - London Times

Endlessly interesting.
— Anthony Cummins - The Observer

At first it seems we might be in a book of interlinked stories, but discovering you aren't quite where you thought you might be is part of the deliberate disorientation of A Shock. It soon becomes clear that the sections in the novel don't interlink so much as echo and rhyme. The observation is acute, the dialogue sparkles, the movement between interiority and surveillance is deft. It is a novel of in-between places that keeps the reader off-balance to surprising, intelligent and sometimes eerie effect.

— Kamila Shamsie, (Citation for the 2021 Goldsmiths Prize shortlist)

Don't call it a novel in stories or a collection; just call it the Irish writer's masterpiece.
— Publishers Weekly

Keith Ridgway's new novel A Shock bends the rules of plot and time.

— Zack Kopp - Rain Taxi