A Death in Harlem: A Novel (Paperback)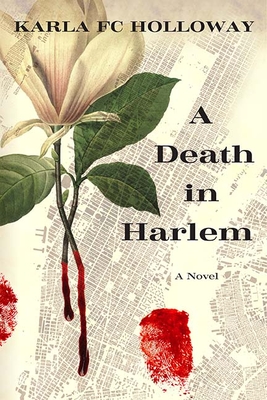 $18.95

Available from our distributor; usually Ships in 1-5 Days
Description
---
In A Death in Harlem, famed scholar Karla FC Holloway weaves a mystery in the bon vivant world of the Harlem Renaissance. Taking as her point of departure the tantalizingly ambiguous "death by misadventure" at the climax of Nella Larsen's Passing, Holloway accompanies readers to the sunlit boulevards and shaded sidestreets of Jazz Age New York. A murder there will test the mettle, resourcefulness, and intuition of Harlem's first "colored" policeman, Weldon Haynie Thomas.

Clear glass towers rising in Manhattan belie a city where people are often not what they seem. For some here, identity is a performance of passing—passing for another race, for another class, for someone safe to trust. Thomas's  investigation illuminates the societies and secret societies, the intricate code of manners, the world of letters, and the broad social currents of 1920s Harlem.

A Death in Harlem is an exquisitely crafted, briskly paced, and impeccably stylish journey back to a time still remembered as a peak of American glamour. It introduces Holloway as a fresh voice in storytelling, and Weldon Haynie Thomas as an endearing and unforgettable detective.
About the Author
---
KARLA FC HOLLOWAY is the James. B. Duke Professor Emerita of English and Law at Duke University, where her research and teaching have included African American literary and cultural studies, bioethics, gender, and law. She is the author of eight books, including Passed On: African American Mourning Stories; Private Bodies, Public Texts: Race, Gender, and a Cultural Bioethics; and Legal Fictions: Constituting Race, Composing Literature.
Praise For…
---
"Set in 1927, Holloway's disquieting debut examines the seamy side of the Harlem Renaissance. . . The freewheeling ensemble narrative explores the shifting alliances among race and elite social circles. This spiritual successor to Nella Larsen's 1929 novel, Passing, will keep historical mystery fans guessing." —Publishers Weekly

"The secrets that emerge, it turns out, are all about race: racial pride, racial identity, racial passing, and the problematic relations between a Harlem community yearning for self-expression and the white institutions determined to police it while keeping it at a safe distance. . .  Holloway brings her period, place, and people alive and provides as a bonus a most unexpected culprit." —Kirkus Reviews

"This debut novel does not fit the mold of a murder mystery with a clever hero overcoming great odds to find the killer. Rather, it's a serious telling of the Roaring Twenties people of Harlem as they strive to reach a better place for themselves and each other." —Historical Novel Society

"Holloway's debut novel will take you on a journey that reveals a fresh, richly layered, and rarely seen—or imagined—view of early twentieth-century black life and society. Fascinating characters, rich period detail, secrets, scandals, power, privilege, poverty, and plenty of plot twists make for an unforgettable and unflinching glimpse into a world that many will find surprising, mysterious, and possibly even mythical. Others of us know how real this world was, is. Nella would be pleased."—Virginia DeBerry, coauthor of Better Than I Know Myself

"A Death in Harlem is both a period novel and a deeply contemporary story with a symphony of memorable characters. The musical, personal voice of Karla Holloway animates this gripping tale full of mystery, humor, and saturated with African American cultural memory."—Emily Bernard, Julian Lindsay Green and Gold Professor of English at the University of Vermont and author Black is the Body: Stories from My Grandmother's Time, My Mother's Time, and Mine