Book of the Little Axe (Hardcover)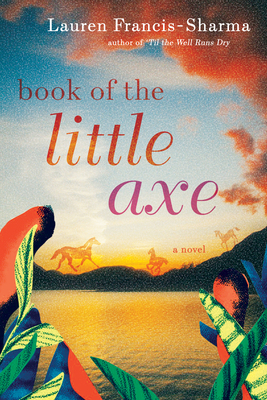 $26.00

Available from our distributor; usually Ships in 1-5 Days
Staff Reviews
---
I felt compelled to write this review before I was even able to get halfway through this exhilarating novel. Oh how I've longed to get my hands on more Caribbean literature and Lauren Francis-Sharma has not disappointed in the slightest. The intricate details she gives to every single aspect of this story is probably the closest I've come to feeling like I've been transported to a different time and space. The characters, the land that surrounds them, the animals...I truly don't want this novel to end. I don't think that I will find myself reading a novel more beautifully written than this in 2020.
— From
Deidre
"It's a Western! Without the toxic masculinity and white supremacy! I didn't know I could have that! For fans of horses, adventures, and wildly original metaphors."
— From
Aly
Description
---
A BOOKLIST EDITOR'S CHOICE BOOK OF THE YEAR
Ambitious and masterfully-wrought, Lauren Francis-Sharma's Book of the Little Axe is an incredible journey, spanning decades and oceans from Trinidad to the American West during the tumultuous days of warring colonial powers and westward expansion.
In 1796 Trinidad, young Rosa Rend n quietly but purposefully rebels against the life others expect her to lead. Bright, competitive, and opinionated, Rosa sees no reason she should learn to cook and keep house, for it is obvious her talents lie in running the farm she, alone, views as her birthright. But when her homeland changes from Spanish to British rule, it becomes increasingly unclear whether its free black property owners--Rosa's family among them--will be allowed to keep their assets, their land, and ultimately, their freedom.
By 1830, Rosa is living among the Crow Nation in Bighorn, Montana with her children and her husband, Edward Rose, a Crow chief. Her son Victor is of the age where he must seek his vision and become a man. But his path forward is blocked by secrets Rosa has kept from him. So Rosa must take him to where his story began and, in turn, retrace her own roots, acknowledging along the way, the painful events that forced her from the middle of an ocean to the rugged terrain of a far-away land.
About the Author
---
Lauren Francis-Sharma is also the author of the critically acclaimed novel 'Til the Well Runs Dry. She resides near Washington, DC with her husband and two children and is the assistant director of the Bread Loaf Writers' Conference.