The Cocktail Seminars (Hardcover)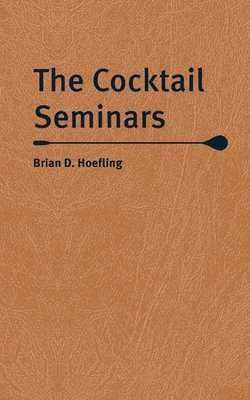 $24.95

Available from our distributor; usually Ships in 1-5 Days
Staff Reviews
---
The cover is battered, pages are stained, this book has a lemony smell to it and I have owned it for a little over a month. The Cocktail seminars breaks down cocktails in an incredibly pragmatic way that will finally let you know what you love and how make something out of nothing. If you prefer technique over 1 new star recipe this is it. Scoop it up and you'll have a guide to get you shopping, shaking, and sipping. 
— Hanz
Description
---
2022 SPIRITED AWARDS FINALIST
A spirited and humorous education in mixology, drink by drink
"One of the better drinks books published this year . . . The recipes are solid; the drink histories credible; the seminars deliver what they promise."

—Eric Felten, Wall Street Journal
As a senior at Yale, Brian Hoefling realized that his classmates were about to enter the real world with an imperfect knowledge of how to prepare and enjoy cocktails. To remedy this dangerous deficiency, he devised and taught The Cocktail Seminars.



In his subsequent career as a cocktail teacher and writer, Hoefling has developed and refined The Cocktail Seminars into the present book. Each of the five seminars herein (from beginner to advanced) covers thirty different drinks, which are arranged so as to progressively introduce the ingredients and techniques of mixology, as well as its eventful history. In each seminar, an exercise and examination challenges readers to apply what they've learned to the creation of new and variant drinks.



Hoefling's seminars are founded on the principle that all cocktails consist of a base spirit modified in certain fundamental ways, such as sweetening, souring, bittering, aromatizing, aerating, lengthening, and thickening. Each cocktail is illustrated by a color-coded wheel that shows how the base spirit is modified by the other ingredients.



Those who are less serious about their cocktail education may also consult The Cocktail Seminars for drink recipes as needed, or display this handsome volume, bound in faux leather, on their bar cart—but they are only robbing themselves of a brighter future through the gift of education. The Cocktail Seminars will make an excellent gift for all but teetotalers.
About the Author
---
Brian D. Hoefling is the founder of the Herzog Cocktail School, which has been educating the public on cocktail history and preparation since 2012. He is the author of Distilled Knowledge: The Science Behind Drinking's Greatest Myths, Legends, and Unanswered Questions.
Praise For…
---
One of Bevvy's Top Cocktail Books of 2021


One of the better drinks books published this year . . . The recipes are solid; the drink histories credible; the seminars deliver what they promise.

— Eric Felten,

"As someone who cobbled together their understanding of cocktail theory the hard way, I wish I'd had The Cocktail Seminars at the start of my journey. . . a highly engaging textbook and reference for cocktail geeks like me."

— Matt Pietrek, author of Minimalist Tiki

Hoefling's latest book is the culmination of a years-long pursuit. . . His unique philosophy departs from the "template" approach to mixology, using simple diagrams to illustrate how the components and techniques of a particular cocktail transform the canvas of a base spirit into a painting. And Hoefling deftly weaves the vital history of the cocktail into each chapter.
— Lauren Clark, author of Crafty Bastards: Beer in New England from the Mayflower to Modern Day

A well-mixed cocktail is not simply a drink; it is a story in a glass. Which is why Brian D. Hoefling's "textbook" is a such pleasure to peruse. Hoefling has created a lively mixology history seminar as well as an instructional course; he stirs together legends, facts, and personal observations along with the techniques for making classic and overlooked cocktails. . . This is a master class in shake, stir, and spin for the home bartender.
— Stephanie Schorow, author of Drinking Boston: A History of the City and its Spirits

The Cocktail Seminars is a valuable resource that breaks down cocktails into classifications as to why they work as opposed to merely a collection of recipes left for the reader to interpret. Brian is constantly drawing references to previous drinks in the book to compare, contrast, and build on the concepts. The interconnection between drinks crosses styles such that a 19th century classic, for example, will explain why a Tiki drink works so well. Moreover, as an advanced cocktailian, this book had me rethinking and fine-tuning my thoughts on drinks, so this is not just a beginner's course. Bravo!

— Frederic Yarm, author of Drink & Tell: A Boston Cocktail Book and Boston Cocktails: Drunk & Told, and the Cocktail Virgin blog