Revenge of the Evil Librarian (Hardcover)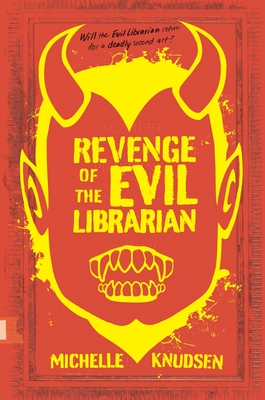 $16.99
Out of Stock - Not Available
Description
---
The stage is set for a fiendishly dramatic summer at theater camp for Cynthia and her boyfriend, Ryan. With no demons at all. Right?

Last fall, Cynthia Rothschild saved her best friend, as well as the entire student body, from the demon librarian, Mr. Gabriel, all while executing the most awesome set design for the school musical, Sweeney Todd. But now that all that demon stuff is behind her, Cyn is looking forward to the best summer ever at theater camp with her former-crush-and-now-boyfriend, Ryan Halsey. Once she gets to camp, though, Cyn realizes this summer might not be all she's been hoping for. First, Ryan's best camp friend is a girl (which Ryan had never mentioned to Cyn), and she just happens to be ridiculously pretty. Plus, it seems the demon stuff is not entirely over as Cyn had hoped. At least any new demons that show up to ruin her summer can't possibly be as evil as Mr. Gabriel. It's not like he could somehow come back to life to seek his terrible revenge or something. Best-selling author Michelle Knudsen brings back all the hilarity and horror (not to mention hot guys) in this sizzling sequel to Evil Librarian.
About the Author
---
Michelle Knudsen is the New York Times best-selling author of Library Lion, illustrated by Kevin Hawkes; Argus, illustrated by Andréa Wesson; Big Mean Mike, illustrated by Scott Magoon; and Marilyn's Monster, illustrated by Matt Phelan, as well as the Trelian middle-grade fantasy trilogy and the Evil Librarian YA horror-comedy trilogy. She lives in Brooklyn, New York, and is terrified of spiders.
Praise For…
---
Take one part humor, add an equal part horror, and spice with teenage drama (musical and romantical) for a (slightly grim) laugh...Campy, from the setting to the humor to the horror, and all the better for it.
—Kirkus Reviews

Returning readers will love hearing from Cyn again, who narrates her story with aplomb and keeps readers laughing despite the hellfire and danger around every corner. A pleasing and excellently evil mix of regular theater kids with highly irregular death.
—Booklist Online

The humor, horror, and drama of the previous book are all here, and the while the conclusion is mostly happy, signs point to yet another trip to Hell for Cyn, so readers can look forward to more demonic mayhem.
—Bulletin of the Center for Children's Books

Knudsen brilliantly combines just the right amount of witty, dark humor with truly heart-pounding horror to keep the reader racing to turn the page. Fans of both humor and horror will find a great match with this book and will likely be pulling for a third installment.
—VOYA

That the good guys will win and Cyn and Ryan will work it out is never really in question, but the novel nevertheless builds to a satisfying conclu- sion with just enough loose ends to make readers eager for what awaits Cyn in her senior year.
—The Horn Book

Cyn's realistic, slightly snarky, narration and non-stop action will carry readers through a roller-coaster storyline full of humor and horror. And then there is that agreement between Cyn and the demoness to pull readers into the next book.
—Literacy Daily