Evil Librarian (Hardcover)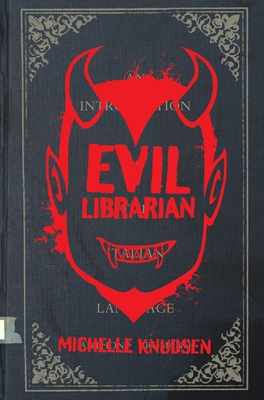 $16.99
Out of Stock - Not Available
Description
---
He's young. He's hot. He's also evil. He's . . . the librarian.

When Cynthia Rothschild's best friend, Annie, falls head over heels for the new high-school librarian, Cyn can totally see why. He's really young and super cute and thinks Annie would make an excellent library monitor. But after meeting Mr. Gabriel, Cyn realizes something isn't quite right. Maybe it's the creepy look in the librarian's eyes, or the weird feeling Cyn gets whenever she's around him. Before long Cyn realizes that Mr. Gabriel is, in fact . . . a demon. Now, in addition to saving the school musical from technical disaster and trying not to make a fool of herself with her own hopeless crush, Cyn has to save her best friend from the clutches of the evil librarian, who also seems to be slowly sucking the life force out of the entire student body! From best-selling author Michelle Knudsen, here is the perfect novel for teens who like their horror served up with a bit of romance, plenty of humor, and some pretty hot guys (of both the good and evil variety).
About the Author
---
Michelle Knudsen is the author of The Dragon of Trelian and The Princess of Trelian, as well as the best-selling picture book Library Lion, illustrated by Kevin Hawkes; Argus, illustrated by Andréa Wesson; and Big Mean Mike, illustrated by Scott Magoon. Michelle Knudsen lives in Brooklyn, New York.
Praise For…
---
It's all terrifically entertaining from start to finish, with Cyn's wry voice narrating her transformation from musical theater–loving, crush-having teen to musical theater–loving, crush-having teen who can also kick some demon butt. The plot is particularly well done here, with several encounters with Mr. Gabriel and other demons providing moments of both horror and humor and eventually culminating in the final demon/human battle.
—Bulletin of the Center for Children's Books (starred review)

[A] self-aware supernatural dramedy... The writing is clever, the tone wry, and the stakes high, with surprises that keep the plot unpredictable. Cyn's internal monologue provides plenty of amusement, especially when her hormones threaten to overpower her common sense. It's an entertaining tale with room for future installments.
—Publishers Weekly

Snappily narrated, tightly plotted and generally just right. Forget paranormal romance; this horror-humor-romance pastiche is where those in search of hot nonhumans should set their sights.
—Kirkus Reviews

Hysterical! Smart and funny, with a little drama, a little romance, and just the right touch of evil.
—Stephenie Meyer, author of the bestselling Twilight Saga

There's plenty to like here: a budding will-they-won't-they romance, demonic possession, musical theater references, and more. Knudsen keeps the terror well-tempered with plenty of hilarious situational comedy and touches of the absurd.
—Booklist Online

If Louise Rennison and Christopher Moore had a bibliographic love child it would be this cheekily narrated supernatural offering. ... [Cyn's] narrative voice and the novel's dialogue make it worth the read. Occasional swearing, a dash of romance, and plenty of laugh-out-loud moments round out Knudsen's enjoyable comedic tale, reminiscent of the original "Buffy" film.
—School Library Journal

Smart, problem-solving, and loyal, [Cyn] makes an engaging heroine... The first-person narration ranges from self-deprecating wit to breathless, punctuation-free anxiety during suspenseful moments, emphasizing Cyn's terror—and her determination to save those she loves despite her fear. An excellent choice for fans of Cynthia Leitich Smith's Tantalize series or Larbalestier and Brennan's Team Human.
—Horn Book

Knudsen's snarky wit portrays the high school atmosphere to a T, and it is suspenseful enough to keep readers up late turning the pages.
—St. Louis Post-Dispatch