I Conquer Britain (Hardcover)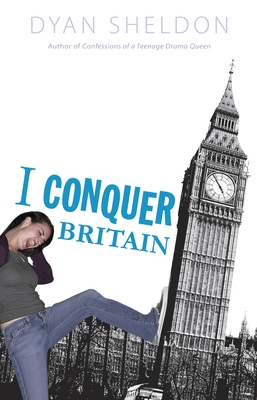 $15.99
Out of Stock - Not Available
Description
---
A bohemian Brooklyn teen crosses the pond to visit an uptight English family in the hilarious companion to Sophie Pitt-Turnbull Discovers America.

The exchange of daughters that began in Sophie Pitt-Turnbull Discovers America continues! Excited (not to say desperate) as Cherokee Salamanca is to get out of Brooklyn, she starts having doubts about her summer in London even before she leaves Heathrow Airport. To start with, the Pitt- Turnbulls speak a language only vaguely like the one Cherokee knows as English. And then Putney reminds her of New Jersey — an oddly polite Jersey where people eat pizza with a fork. But Cherokee is a girl who likes a challenge, and there's no way she's going to let the British defeat her. The question is: will she conquer the British?
About the Author
---
Dyan Sheldon is the author of many acclaimed young adult novels, including the #1 New York Times bestseller Confessions of a Teenage Drama Queen and its sequels, as well as Planet Janet and Planet Janet in Orbit. She was born in Brooklyn and now lives in London.
Praise For…
---
THE PEPTO-BISMOL EXPERIENCE

By the time we got off the highway (otherwise known as the motorway, which if you ask me makes it sound like a conveyor belt), I was not just exhausted from talking so much; I was desperate to see something that I wouldn't have seen on the New Jersey Turnpike besides the occasional black cab.

"There's a mailbox!" I yelled as we finally turned onto an ordinary street and came to a sudden stop. "Oh, my God! Look! A doubledecker bus!"

"Why, so it is," said Caroline.

The bus moved, and we inched forward.

Robert muttered, "Bloody traffic."

I leaned my head against the window so I wouldn't miss anything (though at the speed we were going, I'd pretty much have had to shut my eyes to miss anything bigger than a gnat). I guess I had this picture in my mind of narrow, cobbled streets lined with quaint little stores from seeing A CHRISTMAS CAROL about five hundred times. But the streets we went through weren't anything like that. They looked just like regular streets, and the stores were all regular stores, too: McDonald's . . . Burger
King . . . Subway . . . KFC . . . Starbucks . . . the Gap . . . French Connection . . . Foot Locker . . . Tower Records. There wasn't a Ye Olde English Tea Shoppe to be seen. I wouldn't even have known I was in London if we weren't driving on the wrong side of the road.

I turned my attention to the people trudging through the rain. It was all hoodies and baseball caps and sneakers with the Nike swoosh on the side. There wasn't a good suit or bowler hat in sight.

What did they do with London? It's as if they've moved part of America and stuck it here. I could only hope that they'd put London in Putney.

Robert finally turned onto a wide road lined with houses on either side.

I had two images of London houses. The first was those big, fancy white houses with wrought iron fences and tiled stoops like where Oliver Twist's grandfather lived in the movie. The other was those narrow, gray houses like where the Cratchits lived. But the houses on this road didn't fit either of those images. They were all two stories high, with a tiny porch over the front door, a bay window beside it, and a tiny garden crammed with shrubs and flowers between it and the sidewalk. It was more like something you'd find in the suburbs — except that these houses were all
attached and there weren't any statues of the Virgin Mary out front. If this was Putney, it wasn't where they'd put London. And it wasn't anything like the dead cool city Kev told me about with the markets and the street life and all that stuff either. It looked like the most exciting thing that happened around here was when the hedges got trimmed (probably every week). I started hoping that we were just taking a detour to avoid another traffic jam.

Halfway down the block, Robert stopped the car.

"Here we are at last!" cried Caroline. She sounded so relieved, you'd think she'd been away from home for months. "That's our house, number twenty-two."

Number 22 looked exactly like number 20 and number 24 except for the color of its front door (which was gray and not black or dark blue).

"It's really nice," I said. Which it was. It didn't exactly make you think that Charles Dickens was going to come strolling along (or even Orlando Bloom, unless he was lost), but there wasn't any peeling paint, or weeds in the garden, or broken steps, or any of the other things that I pretty much associate with home. I figured that if it wasn't raining the windows would be sparkling in the sunshine. "Our house is practically falling down."

"Oh, dear," said Caroline. "That can't be very pleasant."

I'd never thought of it as being pleasant or unpleasant; it's just the way it is.

Robert opened his door. "Why don't you show Cherry her room, Caroline? I'll bring her bags up after I've checked my machine." He looked back
as he got out to give her a big smile. "And then we can all have a nice cup of tea."

At last — a nice cup of tea! Eat your hearts out, all you poor saps back in Brooklyn with your cans of Coke and your cappuccinos. I was going to have a nice cup of real English tea.

Robert had already disappeared up the stairs by the time Caroline and I got to the front door.

Caroline stepped inside first. "I'm afraid it's in a bit of a state. But things have been rather frantic lately. . . ."

Caroline's mother had hurt her back so she had to look after her, and then there was Sophie's trip to get ready, and, wouldn't you know it, the
cleaner was on holiday too. None of these things really add up to frantic in Brooklyn (where the cleaner is what you put in the bucket to mop the
floor!). Frantic is when you can't pay the rent and they've turned the electricity off again and someone left the refrigerator door open and Bart
ate everything that wasn't in glass.

I said the house looked OK to me. This was an understatement. By my family's standards it practically looked unlived in. There was nothing
piled up on the stairs or the floors. Nothing hanging from the ceiling. The only things on the coat rack were two raincoats. There weren't even
any heaps of stuff on the small table in the hall. If it was in a state, it was a state of grace. "At least you don't have to step over any cat crap to get
through the door."

"No." Caroline's voice kind of fluttered. "No, I suppose one doesn't."

___________

I CONQUER BRITAIN by Dyan Sheldon. Copyright (c) 2007 by Dyan Sheldon. Published by Candlewick Press, Inc., Cambridge, MA.