This Alien Shore (The Outworlds series #1) (Paperback)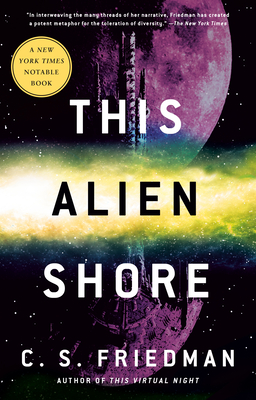 $18.00
Out of Stock - Not Available
Other Books in Series
This is book number 1 in the The Outworlds series series.
Description
---
This lauded work of science fiction and New York Times Notable Book of the Year explores a universe where genetic mutations have allowed certain individuals to traverse the stars. 

It is the second stage of human colonization—the first age, humanity's initial attempt to people the stars, ended in disaster when it was discovered that Earth's original superluminal drive did permanent genetic damage to all who used it—mutating Earth's far-flung colonists in mind and body.

Now, one of Earth's first colonies has given humanity back the stars, but at a high price—a monopoly over all human commerce. And when a satellite in Earth's outer orbit is viciously attacked by corporate raiders, an unusual young woman flees to a ship bound for the Up-and-Out.

But her narrow escape does not mean safety. For speeding across the galaxy pursued by ruthless, but unknown adversaries, this young woman will discover a secret which is buried deep inside her psyche—a revelation the universe may not be ready to face....
About the Author
---
An acknowledged master of dark fantasy and science fiction alike, C.S. Friedman is a John W. Campbell award finalist, and the author of the highly acclaimed Coldfire Trilogy, New York Times Notable Book of the Year This Alien Shore, In Conquest Born, The Madness Season, The Wilding, The Magister Trilogy and the Dreamwalker series. Friedman worked for twenty years as a professional costume designer, but retired from that career in 1996 to focus on her writing. She lives in Virginia, and can be contacted via her website, www.csfriedman.com.
Praise For…
---
Praise for This Alien Shore

"C. S. Friedman borrows some big ideas from writers like Cordwainer Smith, Frank Herbert, and Samuel R. Delaney, and runs with them. Instead of stumbling under the burden, she succeeds in making the material her own." —The New York Times

"Friedman keeps her tale moving at a vigorous pace that's boosted through an abundance of well-chosen details.... It is likely to hold readers' interest tenaciously." —Publishers Weekly

"Once again Ms. Friedman offers us great richness in both concept and detail, ingeniously weaving together two strong plotlines and piquant characters into a superior reading experience." —Romantic Times

"A wide-ranging, action-packed space opera. This Alien Shore is guaranteed to entertain those who like to be swept up in an adventure with lots of characters, dangers, and revelations." —Science Fiction Chronicle

"Concept and culture-building wise, This Alien Shore is brilliant." —Little Red Reviewer

"In many ways, C.S. Friedman's work reminds me of William Gibson's—unique settings, complex and fascinating (though not necessarily likeable) characters, cool ideas and technology, a smart and savvy style." —Fantasy Literature

"Friedman depicts a vast galaxy filled with diverse human kinds." —James Davis Nicoll

"There is so much of interest here and rather than spend paragraph after paragraph describing it all, which I could easily do, I will simply tell you to read it. It is a great book and well worth your time." —Worlds Without End