Angel of the Overpass (Ghost Roads #3) (Paperback)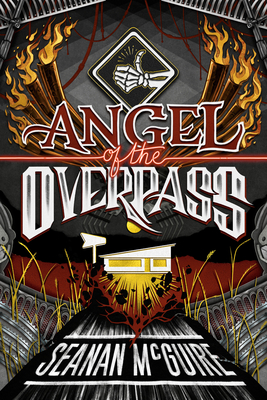 $17.00

Available from our distributor; usually Ships in 1-5 Days
Other Books in Series
This is book number 3 in the Ghost Roads series.
Staff Reviews
---
"I'm a huge fan of Seanan McGuire and the Ghost Roads series is no exception. Her ability to create rich storytelling and characters you can't help but fall in love with never cease to amaze me. If you haven't yet, grab this series. It's her spin on the mythical americana of the hitchhiking ghost and all the spirits of the road we talk about when sitting around a campfire."
— From
Will
Description
---
The third book of the Ghost Roads series returns to the highways of America, where hitchhiking ghost Rose Marshall continues her battle with her killer—the immortal Bobby Cross.

Lady of shadows, keeper of changes, plant the seeds of faith within me, that I might grow and flourish, that I might find my way through danger and uncertainty to the safety of your garden. Let my roots grow strong and my skin grow thick, that I might stand fast against all who would destroy me. Grant to me your favor, grant to me your grace, and when my time is done, grant to me the wisdom to lay my burdens down and rest beside you, one more flower in a sea of blooms, where nothing shall ever trouble me again.

Rose Marshall died when she was sixteen years old and on her way to her high school prom. She hasn't been resting easy since then—Bobby Cross, the man who killed her, got away clean after running her off the road, and she's not the kind of girl who can let something like that slide. She's been looking for a way to stop him since before they put her body in the ground.

But things have changed in the twilight world where the spirits of the restless dead continue their "lives." The crossroads have been destroyed, and Bobby's protections are gone. For the first time, it might be possible for Rose to defeat him.

Not alone, though. She'll need every friend she's managed to make and every favor she's managed to add to her account if she wants to stand a chance…and this may be her last chance to be avenged, since what is Bobby Cross without the crossroads?

Everything Rose knows is about to change.
About the Author
---
Seanan McGuire lives and works in Washington State, where she shares her somewhat idiosyncratic home with her collection of books, creepy dolls, and enormous blue cats.  When not writing--which is fairly rare--she enjoys travel, and can regularly be found any place where there are cornfields, haunted houses, or frogs.  A Campbell, Hugo, and Nebula Award-winning author, Seanan's first book (Rosemary and Rue, the beginning of the October Daye series) was released in 2009, with more than twenty books across various series following since.  Seanan doesn't sleep much. 

You can visit her at www.seananmcguire.com.
Praise For…
---
Praise for the Ghost Roads series

"Hitchhiking ghosts, the unquiet dead, the gods of the old American roads—McGuire enters the company of Lindskold and Gaiman with this book, creating a wistful, funny, fascinating new mythology of diners, corn fields, and proms in this all-in-one-sitting read!" —Tamora Pierce, #1 New York Times bestselling author

"Seanan McGuire doesn't write stories, she gifts us with Myth—new Myths for a layered America that guide us off the twilight roads and lend us a pretty little dead girl to show us the way home." —Tanya Huff, author of the Blood books

"McGuire is a writer to be reckoned with, landing stone-cold emotional blows in quick succession while simultaneously stringing laugh-out-loud moments alongside lush descriptions, knife-sharp badinage and quickfire action sequences." —Strange Horizons

"The impeccable third Ghost Roads urban fantasy (after The Girl in the Green Silk Gown) explores and expands on McGuire's modern-day mythology, brilliantly marrying old traditions and more recent urban legends to create an enthralling tapestry of highway hauntings and hard-traveling horrors." —Publishers Weekly

"The author takes a deliberately lyrical tone with this series, making the story feel like a folk song. She has a gift for putting her heroines in danger and finding creative ways to return them to see them out of it." —Library Journal

"The first volume of McGuire's Ghost Stories is an evocative and profoundly creative work that instantly wraps around readers' imaginations.... This emotional, consistently surprising collection of adventures is also a striking testament to the power of American myths and memories." —RT Reviews (top pick)

"If you've read any of McGuire's previous books, then you'll know she has a penchant for wit and humor; it's on display here as well. As with the myths she uses to create the world, it's all blended together quite impressively." —Culturess