Goddesses and Heroines: Meet More Than 80 Legendary Women From Around the World (Ancient Myths) (Hardcover)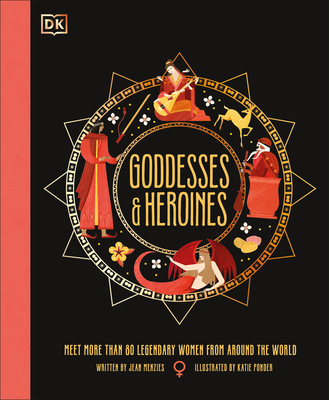 Description
---
A beautifully illustrated collection of profiles of more than 80 goddesses and other powerful women retold for children aged 7-9.

Delve into a world of key female figures from all over the world in this thrilling compendium of goddesses and heroines. With more than 30 stories about goddesses and powerful women, this is a must-have introduction for young readers interested in female figures from different cultures. 

This collection of tales for children aged 7-9 includes stories like how Japanese goddess of the dawn Ame-no-Uzume saved the day by dancing and how ancient Greek witch Medea helped to defeat a dragon.The enthralling stories introduce famous figures from around the world, while a handy reference section is packed with information about the goddesses and heroines themselves. Perfect for children aged 7 to 9, this collection contains more than 30 beloved stories retold by award-winning author Dr Jean Menzies, with striking illustrations bringing the tales to life.

This book on goddesses for children offers:

- Over 80 profiles of women in mythology, covering famous classics and lesser-known stories.
- Striking illustrations by multi-award-winning artist Katie Ponder.
- A handy pronunciation guide listing all difficult-to-pronounce names for the reader's convenience.
- Stunning gold foil on the cover, making it a wonderful gift for children into mythology.
- More than 30 stories, combining the appeal of a story collection with key reference information.

It's time to dive into the underworld of powerful women from religion and myth, from famous figures such as the warrior Mulan, to lesser-known characters like the ancient Greek queen Alcestis. Goddesses and Heriones brings the world of legendary women to life and is the perfect gift for children who love history and mythology. 

At DK, we believe in the power of discovery. 

So why not complete the collection!

Discover the secrets of the pharohs tombs with Egyptian Myths, read extraordinary stories from Ancient Greece with Greek Myths, and uncover action-packed tales of extraordinary creatures and compelling gods, goddesses and more with Norse Myths. 
About the Author
---
YouTuber, creative producer, and winner of the Books Are My Bag Breakthrough Author Award 2020 for Greek Myths, Jean Menzies is currently studying for a PhD in Women in Classical Athens. She runs a podcast about ancient history and mythology called That's Ancient History and regularly uploads to her Youtube channel, youtube.com/bookishthoughts, where she discusses literature and history. She has spoken about ancient history and mythology to audiences of all ages, and taught mythology and ancient history to university students. Jean has written both Greek Myths, published July 2020, and Egyptian Myths, publishing in August 2022, for DK.

Katie Ponder graduated from Falmouth University in 2014 with a 1st class BA with honors in illustration. She enjoys bringing in textures from different media into her work. Katie's inspirations include ballet, the greenhouses at Kew Gardens, her cat, and ghost stories.

Katie won the AOI Book Award for new talent in 2014, and in 2017 she was shortlisted for the Folio Society Award. She was winner of the 2017 House of Illustration People's Choice Award. In October 2017, she won the Glyndebourne Art Award and her work was used as the cover of the Glyndebourne 2017 On Tour program. Her work has been featured in prestigious publications including VAROOM, SOFFA, Communication Arts, and DPI Magazine, and exhibited at Somerset House, The Lyric Theatre, and Glyndebourne opera house. Katie's titles include Greek Myths, also for DK, published in July 2020 and Norse Myths published in July 2021, as well as the upcoming Egyptian Myths, publishing in August 2022.