Rosa Parks (Spanish Edition) (Little People, BIG DREAMS en Español) (Paperback)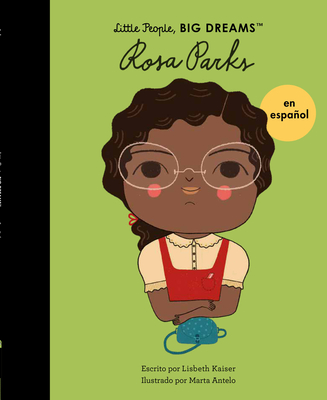 Other Books in Series
This is book number 7 in the Little People, BIG DREAMS en Español series.
Description
---
This beautiful Spanish-language book, translated from the hugely popular Little People, BIG DREAMS series, can be enjoyed by fluent Spanish speakers and those learning the language, whether at home or in the classroom.

En este libro de la aclamada serie Little People, BIG DREAMS, descubre la increíble vida de Rosa Parks, la "Madre del Movimiento por la Libertad."

Rosa Parks creció en Alabama, donde aprendió a defenderse a una edad temprana. Rosa se convirtió en activista de los derechos civiles. En 1955, se negó a ceder su asiento a un hombre blanco en un autobús segregado, lo que provocó el boicot a los autobuses de Montgomery. Su valiente decisión tuvo un gran impacto en los derechos civiles y finalmente llevó al fin de la segregación en el transporte público. Nunca dejó de trabajar por la igualdad de derechos. Este libro conmovedor presenta ilustraciones elegantes y extravagantes y datos adicionales en la parte posterior, incluida una cronología biográfica con fotos históricas y un perfil detallado de la vida del activista.

Little People, BIG DREAMS es una exitosa serie de libros y juegos educativos que exploran las vidas de personas destacadas, desde diseñadores y artistas hasta científicos y activistas. Todos lograron cosas increíbles, pero cada uno comenzó su vida como un niño con un sueño.

Esta serie de empoderamiento ofrece mensajes inspiradores para niños de todas las edades, en una variedad de formatos. Los libros de cartón se cuentan en oraciones simples, perfectos para leer en voz alta a bebés y niños pequeños. Las versiones de tapa dura presentan historias ampliadas para lectores principiantes. Los juegos de regalo en caja le permiten recopilar una selección de libros por tema. Las muñecas de papel, las tarjetas de aprendizaje, los juegos de combinación y otras divertidas herramientas de aprendizaje brindan aún más formas de hacer que las vidas de estos modelos a seguir sean accesibles para los niños.

¡Inspira a la próxima generación de personas destacadas que cambiarán el mundo con Little People, BIG DREAMS!

In this book from the highly acclaimed Little People, BIG DREAMS series, discover the incredible life of Rosa Parks, the 'Mother of the Freedom Movement.'

Rosa Parks grew up in Alabama, where she learned to stand up for herself at an early age. Rosa went on to become a civil rights activist. In 1955, she refused to give up her seat to a white man on a segregated bus, sparking the Montgomery Bus Boycott. Her courageous decision had a huge impact on civil rights, eventually leading to the end of segregation on public transport. She never stopped working for equal rights. This moving book features stylish and quirky illustrations and extra facts at the back, including a biographical timeline with historical photos and a detailed profile of the activist's life.

Inspire the next generation of outstanding people who will change the world with Little People, BIG DREAMS!
About the Author
---
Lisbeth Kaiser is a children's book author and copywriter. She specialises in children's books about revolutionary people. Two of her books in the Little People, BIG DREAMS series, Maya Angelou and Emmeline Pankhurst, were selected for the ALA's Amelia Bloomer Book List, recognising the best feminist books for young readers. Lisbeth lives in Brooklyn with her husband and two children.
Marta Antelo​ graduated with a fine arts degree in Valencia, where she was born. After graduation, she moved to Madrid, where she works as a freelance illustrator. She brings delicate textures to her illustrations. Her client list includes: The New York Times, The Boston Globe, Wall Street Journal, National Geographic Kids, and Scholastic.
Praise For…
---
'a beautiful picture book'—
Stylist
'Strikingly illustrated, they're superb first biographies for younger readers.' —
Huffington Post
'an arts gift in a pear tree! - This little children's book is a lovely way to learn about the "mother of the civil rights movement." With facts and quirky illustrations'—
Guardian
'These books are designed with admirable simplicity… the difficult, often traumatic detail of an entire life is distilled with tremendous skill into its essence; the result is age-appropriate for yet unpatronising to five-year-olds, and hums with a sense of transgressive inspiration'—
The Times Literary Supplement
'A gorgeously designed series of books about achieving great things after dreaming big as a child... Packed with great, easy-to-read facts at the back for avid minds'—
Smallish
'Empowering books EVERY child should read... Yes they are all women but these stories have captured both boys and girls... A must for every child's bookshelf.'—
Junior Magazine
"Brilliantly accessible and inspiring"—
Rhino Reads
"The kind of books that adults will covet and collect as well… The language and structure is simple enough for young readers, while a biographical timeline at the end of each book offers greater historical complexity" —
Irish Times
'If I had to pick a favourite series of children's picture books, Little People, Big Dreams would definitely be up there... Educational, inspiring and empowering for young girls, we plan to collect the entire set.' —
Bambino Goodies
"One children's books series trying to fight back… by telling the inspiring stories of women who overcame adversity and made history by pursuing their childhood dreams." —
Toronto Star
"A QUIRKY kids biography series"
—
The Voice
'Sumptuously illustrated hardbacks, they take the life stories of famous women in history and retell them in a child-friendly way'—
Daily Mail