A Natural History of Magical Beasts (Folklore Field Guides) (Hardcover)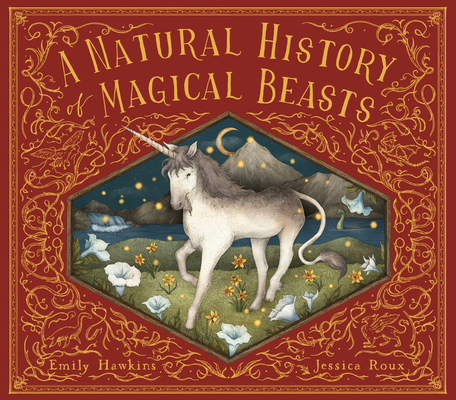 Description
---
Featuring a gold-foil-embossed cloth cover, a ribbon marker and sprayed gold edges, this gorgeous volume is filled with beautiful illustrations and precise notes detailing the secret lives of magical beasts.
 
Tales of magical creatures have been told across the world for generations... but are these stories merely flights of fancy, or is there any truth to the legends of unicorns and dragons, centaurs and griffins?
 
Presented as the notebook of a 1920s zoologist, this lavish volume sets out to answer this question, revealing the hidden world of the magical beasts that live among us. Within these pages you will meet bizarre and beautiful creatures from around the globe, discovering their habits, habitats and the legends surrounding them. Learn about the anatomy of a unicorn, the life cycle of a phoenix, incredible dragon courtship dances and much more in this ultimate guide to magical creatures.
 
This exquisitely illustrated album will entrance all true-believers and fantasy enthusiasts.
 
Following on from A Natural History of Fairies, A Natural History of Magick and A Natural History of Mermaids, this vintage notebook is part of the Folklore Field Guides series: a charming collection of beautifully illustrated compendiums on topics of lore and legend. Fascinating facts are accompanied by breathtaking illustrations, all presented in an engaging narrative form.

 
About the Author
---
Once a children's book editor, Emily Hawkins is now a full-time author. Her work has been featured on the New York Times bestseller list (Oceanology, 2009) as well as winning the Children's Travel Book of the Year Award (Atlas of Animal Adventures, 2016). Along with her background in children's non-fiction Emily has a strong interest in myth, folklore and storytelling. In 2020 she wrote A Natural History of Fairies, which has been translated into twelve languages, selling more than 100,000 copies worldwide. Emily holds a first-class English degree from Nottingham University, and lives in Winchester, UK.
Jessica Roux is a Nashville-based illustrator and plant and animal enthusiast. She loves exploring in her own backyard and being surrounded by an abundance of nature. Using subdued colors and rhythmic shapes, she renders flora, fauna, food, and many other things with intricate detail reminiscent of old world beauty. Her first book with Frances Lincoln was A Natural History of Fairies (September 2020).
Praise For…
---
Fictional zoologist Dr Dimitros pagonis recounts how he discovered dragons, griffins, basilisks, unicorns and yetis over the course of his career and explains the anatomy, behaviour and lifecycles of these mythical creatures. Published as a highly illustrated gift edition hardback."—The Bookseller, Children's Previews

"Brimming with fine, immersive illustrative details that sculpt a wide selection of creatures..."—School Library Journal