London: A Guide for Curious Wanderers: THE SUNDAY TIMES BESTSELLER (Hardcover)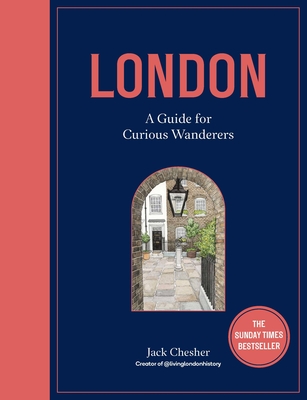 $21.99

Available from our distributor; usually Ships in 1-5 Days
Description
---
See London in a completely new light in this guide to the city's hidden secrets, untold stories and special places laden with history which you can discover for yourself!

London is famous for its museums, each one full of treasures and relics – but the biggest museum in the capital is the city itself. From the stories behind unusual street names, to the trees in our parks; railings made from recycled WWII stretchers, to shrapnel damage on walls; the hidden symbols on post boxes, to prehistoric tree trunks – there is a rich history hidden in the oft-overlooked details of the city's streets, gardens, parks and buildings.
This richly detailed and beautifully illustrated book provides a miscellany of historic features and curiosities to spot as you wander around the capital. Whether you've always wondered why there are cattle troughs on your route to work, why bollards often look like upside down cannons or wanted to know what a Victorian stink pipe is – this book will provide the tools to decipher London's secret code, and introduce you to a treasure trove of hidden spots to explore.

The book comes complete with maps so you can spot these details yourself on walks through the capital.
So, pop on a sturdy pair of shoes and get ready to turn the city into the museum you never knew you had.
About the Author
---
Jack Chesher grew up in Essex, and exciting day trips to London have always been part of his life. After graduating from Bristol University, where he studied history, he finally took the plunge and moved to the capital in July 2020. A passion for walking and history inspired him to launch @LivingLondonHistory in September 2020. Documenting his journey to discovering the city's fascinating and vibrant past by exploring its streets, he believes London itself is the greatest museum of all.
Praise For…
---
"In its 165 pages, the book manages to pack in a heap of information and Jack is sensible in acknowledging that some things may be urban myths or that we simply don't know their true origins. As well as a standard index, there is a listing by postcode which I think is a splendid idea in these days of phone maps.  Beautifully illustrated by Katherine Fraser… A great addition to the library of London loves." 
—
The London Society
".a really enjoyable book: the research is wide ranging, and Jack's knowledge and enthusiasm is infectious… an ideal gift for anyone starting to ask questions about this wonderful city." 
—
Hornsey Historical Society
"If you love London, if you love history, if you love walking – you will love Jack's book. If you have only a slight interest in any of these, by the time you have finished the first section – your curiosity to learn more will have been piqued.  Bravo Jack Cheshire – this is a book that will have a permanent place on our shelves. All Londoners and visitors to London ought to have a copy too." 
—
Lady Lewis
"If you wish to own just one reference about London, you could do no better than purchasing this sumptuously produced book." 
—
Cabbie Blog