Stories and Poems for Extremely Intelligent Children of All Ages (Paperback)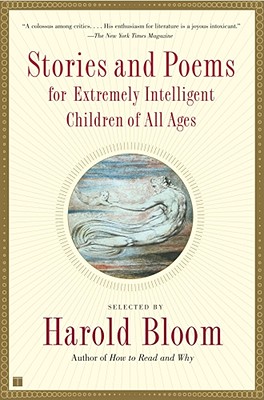 $22.00

Available from our distributor; usually Ships in 1-5 Days
Description
---
"If readers are to come to Shakespeare and to Chekhov, to Henry James and to Jane Austen, then they are best prepared if they have read Lewis Carroll and Edward Lear, Robert Louis Stevenson and Rudyard Kipling," writes Harold Bloom in his introduction to this enchanting and much-needed anthology of exceptional stories and poems selected to inspire a lifelong love of reading. As television, video games, and the Internet threaten to distract young people from the solitary pleasures of reading, Bloom presents a volume that will amuse, challenge, and beguile readers with its myriad voices and subjects.
Here are old favorites by beloved writers of children's literature, as well as exciting rediscoveries and wonderful works penned by writers better known for their adult classics, such as Herman Melville, Leo Tolstoy, Edith Wharton, and Walt Whitman. Encompassing the natural world and the supernatural; childhood, romance, and death; pets, wild animals, and goblins; mystery, adventure, and humor; the selections reflect the passion and erudition of our most revered literary critic. Arranged by season, Stories and Poems for Extremely Intelligent Children of All Ages is a must-have anthology, sure to delight readers young and old for years to come.
About the Author
---
Harold Bloom is Sterling Professor of Humanities at Yale University. He has written more than sixty books, including Cleopatra: I Am Fire and Air, Falstaff: Give Me Life, The Western Canon, Shakespeare: The Invention of the Human, and How to Read and Why. He is a MacArthur Prize fellow, a member of the American Academy of Arts and Letters, and the recipient of many awards, including the Academy's Gold Medal for Criticism. He lives in New Haven, Connecticut.
Praise For…
---
The New York Times Magazine A colossus among critics.... His enthusiasm for literature is a joyous intoxicant.

Michael Pakenham The Baltimore Sun Bloom, one of this nation's premier intellects, draws together and makes sense of the purpose of the smartest, most enduring tales and poetry written primarily for children. The result is delightful reading.

John Mark Eberhart The Kansas City Star This volume...should indeed be shared by the generations.