Mumbo Jumbo (Paperback)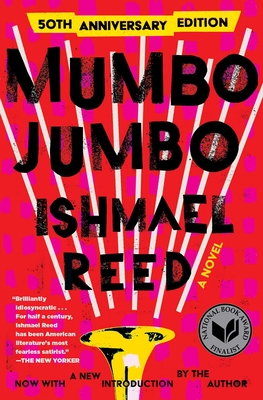 Description
---
New in 2023, the 50th anniversary edition of the classic, freewheeling novel by one of the most iconic satirists of our time—now with a new introduction by the author.

"Part vision, part satire, part farce… A wholly original, unholy cross between the craft of fiction and witchcraft." —The New York Times

It is the 1920s in New York City and an epidemic known as Jes Grew is sweeping the nation—a dancing plague, irresistible, joyful, and undeniably Black. Naturally, the powers-that-be are having none of it. A repressive conspiracy is operating in the shadows, and it is dead set on squelching Jes Grew and its Carriers—Black artists and musicians—by any means necessary.

So begins the classic novel by Ishmael Reed, the iconic satirist whose contributions to American literature have drawn praise from the likes of James Baldwin and Harold Bloom. Mumbo Jumbo is an ingenious deconstruction of Western civilization—a cinematic collage that mixes portraits of historical figures and incidents with sound bites on subjects ranging from ragtime to Greek philosophy. Now with a new introduction by the author, this timeless and crucial work of twentieth-century fiction is ready to be discovered by a new generation of readers.
About the Author
---
Ishmael Reed is the author of over twenty-five books and plays, including Mumbo Jumbo, Yellow Back Radio Broke-Down, Flight to Canada, Conjugating Hindi, Why No Confederate Statues in Mexico, Why the Black Hole Sings the Blues, The Haunting of Lin-Manuel Miranda, and the Audible originals Malcolm and Me and The Fool Who Thought Too Much. He is also a publisher, television producer, songwriter, radio and television commentator, lecturer, and has long been devoted to exploring an alternative black aesthetic: the trickster tradition, or Neo-Hoodooism. A regular contributor to CounterPunch and founder of the Before Columbus Foundation, Reed taught at the University of California, Berkeley, for over thirty years. He has received the MacArthur Fellowship, the Los Angeles Times Robert Kirsch Lifetime Achievement Award, and the Lila Wallace-Reader's Digest Award. Reed has been nominated for a Pulitzer Prize and is the only person to be nominated for the National Book Award in two categories in the same year.
Praise For…
---
"Brilliantly idiosyncratic… For half a century, Ishmael Reed has been American literature's most fearless satirist."
—The New Yorker

"Part vision, part satire, part farce...A wholly original, unholy cross between the craft of fiction and witchcraft."
—The New York Times



"A dazzling classic ... exhilarating ... like jazz, the novel feels improvisatory and ambitious [...] It is a funny book about conspiracy theories that nonetheless feels serious and true. A philosophical and ingenious American race satire."
—Guardian

"From its title on, Mumbo Jumbo serves as a critique of black and Western literary forms and conventions, and of the complex relationships between the two."
—Henry Louis Gates, Jr. Author of The Black Church: This Is Our Story, This Is Our Song

"Brilliant, phantasmal, eccentric...A visionary comic myth."
—The Boston Globe

"A 'HooDoo' thriller, an all-out assault on Western civilization...Reed's best novel."
—The Saturday Review

"A great writer."
—James Baldwin