Por estas calles bravas / Down These Mean Streets (Paperback)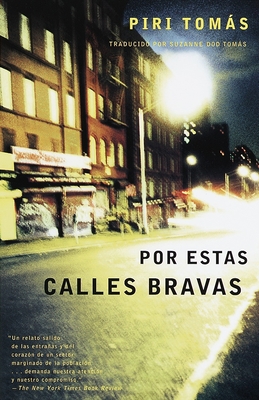 $15.95
Out of Stock - Not Available
Description
---
Thirty years ago Piri Thomas made literary history with this lacerating, lyrical memoir of his coming of age on the streets of Spanish Harlem. Here was the testament of a born outsider: a Puerto Rican in English-speaking America; a dark-skinned morenito in a family that refused to acknowledge its African blood. Here was an unsparing document of Thomas's plunge into the deadly consolations of drugs, street fighting, and armed robbery--a descent that ended when the twenty-two-year-old Piri was sent to prison for shooting a cop.

As he recounts the journey that took him from adolescence in El Barrio to a lock-up in Sing Sing to the freedom that comes of self-acceptance, faith, and inner confidence, Piri Thomas gives us a book that is as exultant as it is harrowing and whose every page bears the irrepressible rhythm of its author's voice. Thirty years after its first appearance, this classic of manhood, marginalization, survival, and transcendence is available in an anniversary edition with a new Introduction by the author.

Hace treinta años Piri Thomas marcó un hito en la historia de la literatura al escribir el desgarrador recuento de su juventud en las calles del Harlem hispano. He aquí la historia de un puertorriqueño nacido en Nueva York pero considerado un extraño en un país de habla inglesa; un muchacho de piel oscura cuya familia se niega a reconocer la obvia presencia de su sangre africana. Este testimonio conmovedor de la caída de Thomas en la trampa mortal de las drogas, las peleas callejeras y los robos a mano armada, termina cuando Piri, de veintidós años, es encarcelado por dispararle a un policía.

Desde su adolescencia en El Barrio hasta la cárcel de Sing Sing, Piri Thomas ofrece un recuento estremecedor que con voz profunda, muestra página de página cómo aprende a conocerse, a aceptarse y finalmente a tener fe en sí mismo. Después de treinta años de su primera edición, este clásico que describe las condiciones de enajenación y la lucha por sobrevivir de un grupo marginado se publica por primera vez en español, con nuevas últimas palabras del autor.
About the Author
---
Piri Thomas was born to Puerto Rican and Cuban parents in New York City's Spanish Harlem in 1928. Poverty in the ghetto led him to drugs, youth gangs, and a series of criminal activities, for which he served seven years in prison. There he began his life of rehabilitation, vowing to use his street and prison experience to turn youths away from lives of crime. Thomas then lectured at schools and universities across the country, and authored several books including Down These Mean Streets; Savior, Savior, Hold My Hand; Seven Long Times; and Stories from El Barrio. He died in 2011, at the age of 83.