Legacy: A Black Physician Reckons with Racism in Medicine (Hardcover)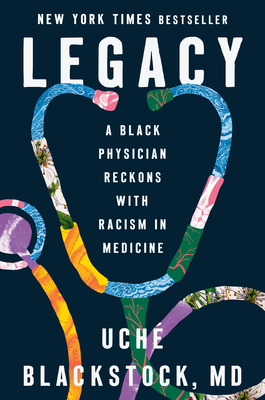 $28.00

Coming Soon - Available for Pre-Order Now
Description
---
"Legacy is both a compelling memoir and an edifying analysis of the inequities in the way we deliver healthcare in America. Uché Blackstock is a force of nature." —Abraham Verghese, MD, New York Times-bestselling author of The Covenant of Water and Cutting for Stone

The rousing, captivating story of a Black physician, her career in medicine, and the deep inequities that still exist in the U.S. healthcare system

Growing up in Brooklyn, New York, it never occurred to Uché Blackstock and her twin sister, Oni, that they would be anything but physicians. In the 1980s, their mother headed an organization of Black women physicians, and for years the girls watched these fiercely intelligent women in white coats tend to their patients and neighbors, host community health fairs, cure ills, and save lives.

What Dr. Uché Blackstock did not understand as a child—or learn about at Harvard Medical School, where she and her sister had followed in their mother's footsteps, making them the first Black mother-daughter legacies from the school—were the profound and long-standing systemic inequities that mean just 2 percent of all U.S. physicians today are Black women; the racist practices and policies that ensure Black Americans have far worse health outcomes than any other group in the country; and the flawed system that endangers the well-being of communities like theirs. As an ER physician, and later as a professor in academic medicine, Dr. Blackstock became profoundly aware of the systemic barriers that Black patients and physicians continue to face.

Legacy is a journey through the critical intersection of racism and healthcare. At once a searing indictment of our healthcare system, a generational family memoir, and a call to action, Legacy is Dr. Blackstock's odyssey from child to medical student to practicing physician—to finally seizing her own power as a health equity advocate against the backdrop of the pandemic and the Black Lives Matter movement.
About the Author
---
Dr. Uché Blackstock is a physician and thought leader on bias and racism in health care. She is the founder and CEO of Advancing Health Equity, appears regularly on MSNBC and NBC News, and is a former associate professor in the Department of Emergency Medicine and the former faculty director for recruitment, retention, and inclusion in the Office of Diversity Affairs at NYU School of Medicine. Dr. Blackstock received both her undergraduate and medical degrees from Harvard University, making her and her twin sister, Oni, the ­first Black mother-daughter legacies from Harvard Medical School. Dr. Blackstock currently lives in her hometown of Brooklyn, New York, with her two school-age children.
Praise For…
---
Named one of the Top 13 Innovators Shaping The Future of Health by Fortune magazine

Advance Praise for Legacy

"Physician and healthcare consultant Blackstock skillfully blends biography and advocacy in this passionate debut memoir. . . . Inspiring. . . . A sobering and knowledgeable study of medical discrimination from someone with a lifetime of experience."
—Publishers Weekly (starred & boxed review)

"Uché Blackstock has made something abundantly clear: If you want to understand a society, look at its hospitals. Dr. Blackstock, one of the most insightful and impactful public voices in medicine, shares her remarkable personal story and her profound insight regarding race, gender, and health inequality. We meet a person who is vulnerable, human, and brilliant. However, this book is so much more than a compelling memoir. These are marching orders. Armed with concrete steps for addressing inequality, readers will be inspired to become better stewards of our communities and society. Simply put, Legacy makes room for us to freedom dream anew."
—Imani Perry, National Book Award-winning author of South to America

"Uché Blackstock has gifted us with a brilliant and timely wake-up call of a memoir. In her capable hands, a light is shone upon the deep inequities of our medical system. But more than a lament, this book is a battle cry. And like Dr. Blackstock, so many of us will find through reading Legacy, that we are ready for the fight."
—Jacqueline Woodson, National Book Award-winning author of Brown Girl Dreaming and Red at the Bone

"Dr. Uché Blackstock's Legacy offers a blistering indictment of American health care. With the deep knowledge of a physician who has trained and practiced in a system riddled with inequality and the personal perspective of a patient harmed by it, she points out the longstanding inequity inherent in an institution resistant to transformation. Most of all, Legacy is a love letter to Dr. Blackstock's mother, a physician, who like her twin daughters both believed in the promise of the American medical system and was betrayed by it." 
—Linda Villarosa, author of Under the Skin: The Hidden Toll of Racism on American Lives and on the Health of Our Nation

"Legacy is both a compelling memoir and an edifying analysis of the inequities in the way we deliver healthcare in America. Uché Blackstock is a force of nature."
—Abraham Verghese, MD, New York Times-bestselling author of The Covenant of Water and Cutting for Stone

"Legacy is an illuminating and stirring journey of a book. The illuminating: the devastating cycle of racism in our healthcare system. The stirring: the inimitable family and career of Dr. Uché Blackstock and her quest to dismantle medical racism."
—Ibram X. Kendi, #1 New York Times-bestselling author of How to Be an Antiracist

"Legacy weaves a beautiful story that feels like a warm, handmade quilt. Each memory of her family took me deeper into understanding Uché's brave commitment to the health and thriving of Black people. A story that feels like the faith of a mustard seed. Reading it gave me hope. I felt tucked in safely knowing a doctor like her exists in our health care system."
—Tricia Hersey, New York Times bestselling-author of Rest is Resistance and founder of The Nap Ministry

"This powerful book is both mesmerizing memoir and groundbreaking gift. I will remember Dr. Blackstock's story and teachings for a long time. Highly recommend for all."
—Dolly Chugh, Professor at New York University Stern School of Business and author of The Person You Mean to Be and A More Just Future

"Uché Blackstock writes courageously about how antiBlack racism plagues the U.S. healthcare system at every level. This is not a story about abstract systems and institutions but about how individuals—professors, physicians, policy makers and more—are complicit in maintaining the deadly status quo. Legacy is a deeply personal reckoning with our collective inheritance and an invitation for each of us to demand better of ourselves and our society."
—Ruha Benjamin, author of Viral Justice: How We Grow the World We Want

"A timely and persuasive memoir."
—Kirkus Reviews