Silverview: A Novel (Paperback)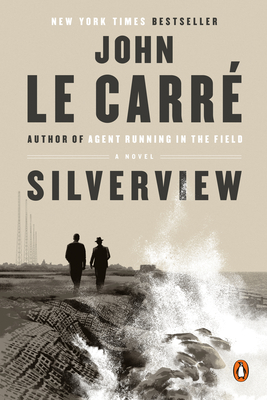 $17.00

Available from our distributor; usually Ships in 1-5 Days
Description
---
An instant New York Times bestseller!

In his last completed novel, John le Carré turns his focus to the world that occupied his writing for the past sixty years—the secret world itself.

"[Le Carré] was often considered one of the finest novelists, period, since World War II. It's not that he 'transcended the genre,' as the tired saying goes; it's that he elevated the level of play… [Silverview's] sense of moral ambivalence remains exquisitely calibrated." —The New York Times Book Review

Julian Lawndsley has renounced his high-flying job in the city for a simpler life running a bookshop in a small English seaside town. But only a couple of months into his new career, Julian's evening is disrupted by a visitor. Edward, a Polish émigré living in Silverview, the big house on the edge of town, seems to know a lot about Julian's family and is rather too interested in the inner workings of his modest new enterprise.
 
When a letter turns up at the door of a spy chief in London warning him of a dangerous leak, the investigations lead him to this quiet town by the sea . . .
 
Silverview is the mesmerizing story of an encounter between innocence and experience and between public duty and private morals. In his inimitable voice John le Carré, the greatest chronicler of our age, seeks to answer the question of what we truly owe to the people we love.
About the Author
---
JOHN LE CARRÉ was born in 1931. For six decades he wrote novels that came to define our age. The son of a con man, he spent his childhood between boarding school and the London underworld. At sixteen he found refuge at the university of Bern, then later at Oxford. A spell of teaching at Eton led him to a short career in British Intelligence, in MI5 and MI6. He published his debut novel, Call for the Dead, in 1961 while still a secret servant. His third novel, The Spy Who Came in from the Cold, secured him a worldwide reputation, which was consolidated by the acclaim for his trilogy Tinker Tailor Soldier Spy, The Honourable Schoolboy, and Smiley's People. At the end of the Cold War, le Carré widened his scope to explore an international landscape including the arms trade and the War on Terror. His memoir, The Pigeon Tunnel, was published in 2016 and the last George Smiley novel, A Legacy of Spies, appeared in 2017. Silverview is his twenty-sixth novel. John le Carré died on December 12, 2020.
Praise For…
---
Praise for Silverview:

"[Le Carré] was often considered one of the finest novelists, period, since World War II. It's not that he 'transcended the genre,' as the tired saying goes; it's that he elevated the level of play… [Silverview's] sense of moral ambivalence remains exquisitely calibrated." —The New York Times Book Review

"The plot unfolds with as much cryptic cunning as a reader could want...Enjoyable throughout, written with grace, and a welcome gift from the past."" —The Wall Street Journal

"A thoroughly enjoyable book...a clarion call that slices straight to the bone, and hurts. John le Carré did not just leave the world an engaging novel, he also left us with a warning." —The Washington Post

"This is an intelligent, mournful, wry delight… a suitable end to a storied career, a low-key thriller with a brain and a conscience." —Minneapolis Star Tribune

"What a gift to have a posthumous novel by John le Carré, a writer who gave us a world of intricate spycraft, government mendacity and corrupt capitalist overlords that was as unromantic as it was immersive and transporting. Silverview is… an enjoyable coda to a unforgettable career." —Vogue

"John le Carré fans can exhale. Silverview, the master storyteller's twenty-sixth and final novel, has arrived and it's cause for celebration… Silverview is a propulsive and elegantly written tale… a fully formed thriller that provides a stinging look at the British Secret Service operating under crisis. Less labyrinthine than some of le Carré's early work, it has all the grand themes of his best novels — love and betrayal, loyalty and morality — fully on display." —AARP

"A well-aimed parting shot." —The New Republic

"A worthy coda...from a much-missed master." —The Economist

"One of [le Carré's] most touching and satisfying [novels] – for putting into high relief this beloved author's vision for his country and his disappointments, and perhaps most of all, the elegance and coloristic palette of his unique and incomparable prose." —Pittsburgh Post-Gazette

"Silverview is a fine book centered on the lonely lives of spies and difficult choices they make when experience redefines the parameters of their mission for Queen and country… John Le Carré at the top of his game – smart, candid, stylish, relevant." —Valdosta Daily Times

"First-rate prose and a fascinating plot distinguish the final novel from MWA Grand Master le Carré ... This is a fitting coda to a remarkable career." —Publishers Weekly

Praise for John le Carré:

"The premier spy novelist of his time. Perhaps of all time."—Time

"[Le Carré's] novels are so brilliant because they're emotionally and psychologically absolutely true."—The New York Times Book Review
 
"Le Carré is one of the best novelists—of any kind—we have."—Vanity Fair

"No other writer has charted—pitilessly for politicians but thrillingly for readers—the public and secret histories of his times."—The Guardian (London)