In Nightfall (Paperback)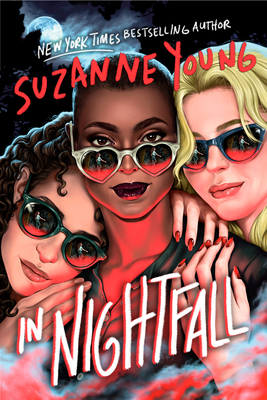 Description
---
In the quaint town of Nightfall, Oregon, it isn't the dark you should be afraid of—it's the girls. The Lost Boys meets Buffy the Vampire Slayer in this propulsive novel from the New York Times bestselling author of The Treatment.

Theo and her brother, Marco, threw the biggest party of the year. And got caught. Their punishment? Leave Arizona to spend the summer with their grandmother in the rainy beachside town of Nightfall, Oregon—population 846 souls.

The small town is cute, when it's not raining, but their grandmother is superstitious and strangely antisocial. Upon their arrival she lays out the one house rule: always be home before dark. But Theo and Marco are determined to make the most of their summer, and on their first day they meet the enigmatic Minnow and her friends. Beautiful and charismatic, the girls have a magnetic pull that Theo and her brother can't resist.

But Minnow and her friends are far from what they appear.
And that one rule? Theo quickly realizes she should have listened to her grandmother. Because after dark, something emerges in Nightfall. And it doesn't plan to let her leave.
About the Author
---
Suzanne Young is the New York Times bestselling author of the Program series. Originally from Utica, New York, Suzanne moved to Arizona to pursue her dream of not freezing to death. She is an author and an English teacher, but not always in that order. Suzanne has published more than twenty books for teens, including Girls with Sharp Sticks, All in Pieces, and Hotel for the Lost.

Praise For…
---
"A delicious tale filled with desire and bite." —Kirkus Reviews

"Creepy and adventurous." —Booklist

"The slow build-up allows readers plenty of time to become acquainted with Nightfall...and become seduced along with Theo and Marco by the town's alluring qualities." —The Bulletin

"Atmospheric and chilling, In Nightfall is a campy, creepy, fangtastic thrill ride to the last page! I dare you not to read this in one deliciously bloodcurdling sitting." —Amalie Howard, USA Today bestselling author
 
"Suzanne Young's In Nightfall breathes life into the vampire genre. Female villainess vamps reign supreme with the wittiest dialog since Buffy. Move over, Sunnydale: Nightfall is about to become the vampire capital of the world." —Diana Rodriguez Wallach, author of Small Town Monsters and Hatchet Girls

"Creepy horror vibes are perfectly balanced with a smart, snarky heroine in this updated vampire tale that will LITERALLY suck you in. I couldn't put it down!" —Gretchen McNeil, author of Ten and the #murdertrending series

"I just read Suzanne Young's In Nightfall and this book has everything: bloodsuckers, beach parties, grannies in tracksuits...There's something so inviting about Young's writing—you open the book, the pages fly by, and before you know it you're just as trapped in Nightfall, Oregon, as her intrepid protagonists. Read this; you won't regret it." —Kendare Blake, #1 New York Times bestselling author of All These Bodies