Bug Sandwich (Hardcover)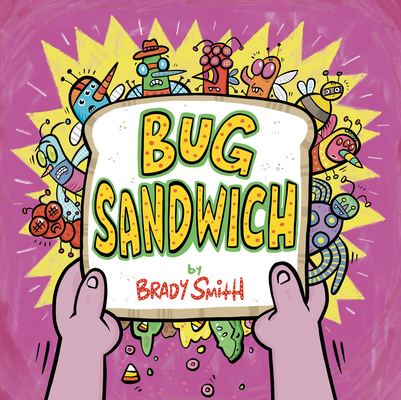 $19.99

Available from our distributor; usually Ships in 1-5 Days
Description
---
It's time to bite those bugs back, in this funny tale of a bitten-up boy who's not going to take it anymore!

The kid in this story has had it with how much bugs love him—love to bite him, that is! Now he's determined to return the favor. But as he eagerly hunts the bugs in his backyard, he can't help noticing how impressive they are, too—they're basically master builders with super-strength! But will that remarkable quality be enough for him to change what's on the menu? This wacky tale will delight young readers, who will be itching to find out who wins the buggy battle!
About the Author
---
Brady Smith (bradysmith.com), an illustrator and fine artist, also wrote and illustrated the picture books You're Missing It! (with his wife, Tiffany Thiessen) and I'm Getting a Shark!, and the graphic novels Louie and Bear in the Land of Anything Goes and Louie and Bear Bite Back. He has exhibited his paintings in a number of galleries in Los Angeles, New York City, and Houston. He has his own illustration and design company, Brady Smith Creative. Also an actor and writer, he has appeared in and written numerous TV shows and movies. He lives in the Los Angeles area with his wife, two children, three dogs, eight chickens, and one fish named Goldie Han Solo.
Praise For…
---
"There's a fun twist in store that will have readers wondering what they'd do if they unknowingly bit into a bug sandwich. The hilariously over-the-top story will earn giggles and nods of recognition from the bug averse. With loud colors and a zany, chaotic tone, the cartoon art is delightful. A page on which tall yellow block letters spell out the word AHHHH! as a mosaic of colorful bugs, together forming a huge, ravenous insect, fly after the boy will have many readers transfixed. Readers may even come away appreciative of bugs, too—one page shows the boy staring admiringly at bees as they create a hive and at a spider as it weaves a web and catches a mosquito. A goofy premise that works." —Kirkus Reviews

"A bug-bitten boy believes revenge is a dish best served between two slices of bread in this raucous examination of the world of backyard insects. . . . Boldly hued, animation-style artwork from Smith (You're Missing It!) stylistically blends patterns and electric hues. Speech bubbles stemming from the protagonist . . . and from various insects provide funny asides alongside upbeat text. Kinetic scenes of the boy's bug-catching adventures, the bugs' intricate coloration, and notes of mild gross-out humor should prove appealing to insect admirers and detractors alike." —Publishers Weekly

"Our bug-bitten protagonist is furiously annoyed with the creepy-crawlies that inexplicably target him, leaving him with ouches and itches, so now he's ready to bite back, quite literally. . . . The digital illustrations are classically cartoony, with the expressive wide-eyed protagonist sporting a mop of red hair atop an oversized head, and the vivid palette hedges—appropriately so—toward garishness. The bugs themselves really sell the show, though, donning the occasional top hat or bandana and with prominent stingers or mandibles rendered goofily harmless with bright, geometric patterns. Kids who've wondered why they seem to be particularly tasty to biting bugs won't find answers here, but it's still a gleeful tale of almost vengeance that ends on a note of understanding the natural world." —The Bulletin of the Center for Children's Books

"Zany, expressive, brightly colored insects welcome readers right from the cover and then title page. . . . Smith's crisp storytelling will have children on the edge of their seats, and the ebullient drawings never fail to engage. Quick, fun, and visually delightful, this tale will be enjoyed for the ick factor and the humor." —School Library Journal