The Fervor (Paperback)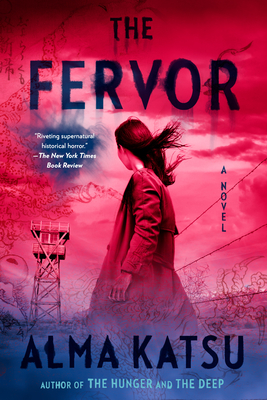 Description
---
"Alma Katsu is the reigning queen of literary historical horror." —An NPR Book of the Year

1944: As World War II rages on, a mysterious, deadly fervor spreads across America, transforming people into monstrous aggressors, each provoked into fits of unthinkable barbarity. It's a contagion that, according to Meiko Briggs, might have dark, otherwordly underpinnings.

But Meiko and her daughter, Aiko, have been forced into an internment camp in Idaho, where the disease rapidly unfurls, and nearly invisible, demonic spiders seem to follow. More dangerous than the illness are the doctors who swarm the camps as a result, increasing their control on those captured, and their violence toward them. When Aiko suddenly escapes, Meiko must race against the clock to find her daughter and untangle the secrets behind the fervor before it catches her first.

With a keen and prescient eye, acclaimed author Alma Katsu crafts a terrifying story about the danger of demonization, a mysterious contagion, and a deep excavation of how we decide who gets to be human when being human matters most.
About the Author
---
Alma Katsu is the award-winning author of seven novels, most recently Red Widow, The Deep, and The Hunger. She is a graduate of the master's writing program at the Johns Hopkins University and received her bachelor's degree from Brandeis University. Prior to the publication of her first novel, Katsu had a long career as a senior intelligence analyst for several U.S. agencies. She lives in West Virginia with her husband.
Praise For…
---
Finalist for the International Thriller Writers Award
Finalist for the Bram Stoker Award
Finalist for the Locus Award
An NPR Book of the Year

One of Booklist's Best Horror Books of the Year
One of CrimeReads' Best Historical Fiction of the Year
One of Book Mark's Best Sci-Fi and Fantasy Books of April
One of CNN's Most Anticipated Reads of April
One of Book Riot's Best New Releases in April

"Alma Katsu is the reigning queen of literary historical horror, and The Fervor might be her best book yet. . . . A scathing look at anti-Asian sentiment that also explores what happens when racism is allowed to flourish unchecked, this is a historical-fiction narrative that feels incredibly timely." —NPR

"Superb . . . Horror fails without empathy, but it triumphs here . . . . This book is a triumph that thrills and entertains . . . and makes Katsu the queen of historical horror." —Locus

"The Fervor uses a nightmare period of our history to explore another sort of darkness, drawing on Japanese demons and human scapegoating for a truly chilling tale." –Shondaland

"The Fervor blends the best elements of a superb, epidemic-themed horror. . . . Katsu expertly weaves the darkest, most disturbing horror motifs with the psychologically jarring elements of historical disasters and events. . . . It's a thought-provoking book about the power of hate and the significant strength it takes to defy a system perpetuating that hate." —Southern Review of Books

"Another clever work of horror/historical fiction that is extremely relevant to our current times . . . So well plotted . . . So brilliantly conceived . . . This book brings the heat on nearly every page." —Book Reporter

"Alma Katsu is known for her riveting supernatural historical horror. . . . The jorogumo are wildly creepy, skincrawling creatures, and Japanese culture and mythology create a rich and believable supernatural presence." —New York Times Book Review

"Gives readers a glimpse into one of the darkest moments of American history, and then gives the already terrifying ethos of that time a new and frightening shape….The Fervor delivers a punch that's equal parts psychological horror and jump scare. It will make you want to read into the wee hours of the morning, even though you may question that decision when the shadows start to move." –BookPage (starred review)

"Despite its supernatural elements, the true horror in The Fervor doesn't come from jump scares like readers might expect. . . . The novel provides an incredibly important and eye-opening commentary on discrimination and racism." —BookTrib

"Deeply moving, at times frustrating (for the right reasons), and with an intriguing mystery to keep the pages turning, catching The Fervor is well worth your while, but you might not be able to shake it afterwards." —Rue Morgue

"Katsu has no peer when it comes to atmospheric, detail-rich historical horror, but this volume is more unsettling than anything she's written yet, because its demons attack readers uncomfortably close to home. A must-read for all, not just genre fans." –Library Journal (starred review)

"The action leaps off the page and has a cinematic quality. The Fervor is a stunning triumph and unfurls like a masterfully woven tapestry. It is suffused with secrets, pain, Japanese myths long thought forgotten, and above all the guilt that permeates throughout. . . . The ghosts of this story will haunt readers long after they're finished reading."—Booklist (starred review)

"The plot moves at a dizzying pace . . . a balance of incisive detail and steady progression . . . What appears to be a story of supernatural suspense mixed with historical fiction transforms into an important reminder of the United States' short memory of its own atrocities and its long history of anti-Asian sentiment, violence, and racism. . . . It's enjoyable to experience the ambitious, weblike weaving of the book's many elements." —Kirkus Reviews

"No one does historical gothic horror better than Katsu, and I can't wait to immerse myself in this very creepy tale." –CrimeReads

"This cutting-edge story mixes thriller and horror elements with the impossibly harsh reality of Japanese American internment camps . . . . Supernatural and eerie . . . A loud cry and representation of human strength." –Book Riot

"Another enthralling historical horror novel."—Book Riot

"Katsu weaves myriad perspectives into a powerful historical horror novel centered on the internment of Japanese Americans during WWII. . . . The meticulous and compassionate portraiture, placed against the backdrop of what evils humans do to one another, creates a horror that renders even the creepiest spiders merely decorative in comparison. Horror readers looking for sharp social commentary should snap this up." —Publishers Weekly

"The Fervor is set in 1944, but it's about the world we live in now—and that's terrifying."—Stephen Graham Jones, author of My Heart Is a Chainsaw

"The Fervor is heartbreaking, beautiful, and unputdownable. It turns the mirror of the past on the present, showing us what we could become if fear is allowed to defeat sense. It's a masterful accomplishment which will stay with me for a long time."—Catriona Ward, author of The Last House on Needless Street

"Is there anything the brilliant Alma Katsu can't write about? The Fervor is an utterly compelling combination of the historical novel, the medical thriller, and the supernatural scarefest. It's also a hauntingly moving meditation on prejudice and suspicion that feels like it has as much to say about our present moment as it does about the past. This is sure to be considered one of the best, most original novels of the year."—David Bell, author of Kill All Your Darlings

"Masterfully written. Rich in historical detail and packed with complicated, compelling characters, The Fervor is a frightening reminder that those of us in the present are always on the cusp of repeating the sins of the past." —Riley Sager, author of Lock Every Door

"A haunting, harrowing slice of historical horror conjured by a masterful storyteller." —Chuck Wendig, author of Wanderers

"I'm in awe of Alma Katsu's uncanny ability to take historical fiction and infuse it with something so dark and otherworldly. I read this book in two sittings and during the night in between, I dreamt about it. A supernatural story with true heartache." —Jamie Ford, author of The Many Daughters of Afong Moy and Hotel on the Corner of Bitter and Sweet

"A chilling, inventive supernatural thriller about a mysterious outbreak in a Japanese American internment camp during the frenzied nationalist days of World War II. The story is propulsive and dense with spidery scares, but the greatest horror comes from the deep resonance between this shameful episode of our history and the news we read every day." —Steph Cha, author of Your House Will Pay