Papyrus: The Invention of Books in the Ancient World (Hardcover)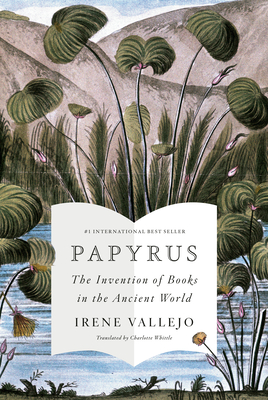 $35.00

Available from our distributor; usually Ships in 1-5 Days
Description
---
A rich exploration of the importance of books and libraries in the ancient world that highlights how humanity's obsession with the printed word has echoed throughout the ages • "Accessible and entertaining." —The Wall Street Journal

Long before books were mass-produced, scrolls hand copied on reeds pulled from the Nile were the treasures of the ancient world. Emperors and Pharaohs were so determined to possess them that they dispatched emissaries to the edges of earth to bring them back. When Mark Antony wanted to impress Cleopatra, he knew that gold and priceless jewels would mean nothing to her. So, what did her give her? Books for her library—two hundred thousand, in fact. The long and eventful history of the written word shows that books have always been and will always be a precious—and precarious—vehicle for civilization.

Papyrus is the story of the book's journey from oral tradition to scrolls to codices, and how that transition laid the very foundation of Western culture. Award-winning author Irene Vallejo evokes the great mosaic of literature in the ancient world from Greece's itinerant bards to Rome's multimillionaire philosophers, from opportunistic forgers to cruel teachers, erudite librarians to defiant women, all the while illuminating how ancient ideas about education, censorship, authority, and identity still resonate today. Crucially, Vallejo also draws connections to our own time, from the library in war-torn Sarajevo to Oxford's underground labyrinth, underscoring how words have persisted as our most valuable creations.

Through nimble interpretations of the classics, playful and moving anecdotes about her own encounters with the written word, and fascinating stories from history, Vallejo weaves a marvelous tapestry of Western culture's foundations and identifies the humanist values that helped make us who we are today. At its heart a spirited love letter to language itself, Papyrus takes readers on a journey across the centuries to discover how a simple reed grown along the banks of the Nile would give birth to a rich and cherished culture.
About the Author
---
IRENE VALLEJO earned her doctorate from the Universities of Zaragoza and Florence. Papyrus was awarded the National Essay Prize and the Critical Eye Prize for Narrative in Spain, and it will be published in over thirty countries. Vallejo is a regular columnist for El País and Milenio, and she is the author of two novels, four collections of essays, articles, and short fiction, and two children's books. Translated from the Spanish by Charlotte Whittle.
Praise For…
---
A Times (UK) Book of the Year • An Economist Best Book on Culture and Ideas • Winner of the Queen Sofia Spanish Institute Translation Prize
 
"Irene Vallejo has a writer's passion for books and a classicist's fascination with the way they came to be. She is also imaginative, lively and contemporary. In her hands written texts are not only a sensual pleasure, but living and frequently disruptive. . . . Ms Vallejo has a notable talent for evoking ancient scenes. Her description, for example, of the poet Martial returning to Spain from Rome, near the end of the book, is masterly." ―Economist
 
"A generous, sprawling work. . . . As much as a history of books, Papyrus is also a history of reading. . . . Include[s] harrowing accounts of how survivors in the gulag and the concentration camps learned to write whole books in their heads, priming themselves for the moment when they would have access to writing materials to tell their stories. . . . Exquisite. . . . Beautifully translated into English by Charlotte Whittle, who is able to convey both Vallejo's passionate narrative presence and her synthesising intelligence." —The Guardian
 
"Evocative. . . . On one level, Papyrus is the story of the invention of books . . . but on another, it is a memoir, a love song, a confessional and a manifesto. Vallejo fuses these strands seamlessly and polishes the surface until it shines. . . . Papyrus has been a surprise bestseller. It's easy to see why: Vallejo is a novelist and she has a storyteller's ability to animate her subjects. . . . Impressively rip-roaring. . . . She draws a six-thousand-year line from the clay tablets of Mesopotamia to the e-reader tablets of today and leaves her readers inspired, invigorated and sincerely grateful for the invention of the book." —Telegraph (UK)
 
"Packed with fascinating insights. . . . Vallejo herself is a diligent scholar, yet blessed with the ability to make the ancient world come alive for us. . . . She excels . . . with her wide-ranging accounts of the human experience of books in the ancient world. She has a fine eye for telling detail." —MSN.com

"Accessible and entertaining. . . . [Papyrus] centers on the Library of Alexandria but has a much broader scope. [It] is as much about the people who inhabit books and libraries as it is about the books themselves. . . . While Socrates feared the written word, Ms. Vallejo sees it as something much more precious and delicate, something that is worth protecting." —The Wall Street Journal
 
"Vallejo . . . elegantly explores how scrolls and codices laid the cultural foundation of the West." —The New York Times Book Review

"Anyone who's ever felt inadequate in the company of great minds will marvel at [Irene] Vallejo's own humility in the presence of those authors she so insightfully cites. . . . Thanks to [Charlotte] Whittle's lively, propulsive translation, English speaking book lovers and intellectual historians will all profit from this magnificent history of books, authors, and the often-anonymous librarians to whom civilization owes an unrepayable debt." —Booklist [starred review]

"Written in a lush and immersive style and shot through with sparkling turns of phrase, this is catnip for bibliophiles and ancient history buffs." —Publishers Weekly

"A sprawling, learned, lively personal history tour of books." —Kirkus Reviews
 
"[A] masterpiece . . . I am absolutely certain that it will continue to be read when its readers today are already in the afterlife." —Mario Vargas Llosa, winner of the Nobel Prize in Literature

"Irene Vallejo's Papyrus is a remarkable work that defies easy categorisation: part cultural history, part memoir, part journey of the imagination. In telling the story of books in the ancient world, Vallejo makes a powerful case for their enduring importance." —Toby Wilkinson, New York Times best-selling author of The Rise and Fall of Ancient Egypt

"Vallejo deftly guides us through the world of ancient books in this exquisite, erudite account. History at its absolute best: learned, vibrant, captivating." —Violet Moller, author of The Map of Knowledge

"Irene Vallejo has a level of authority that reminds me of Elena Ferrante. This is a marvelous book. I am beside myself with envy of the life and mind that produced it. There are very few things—Jane Austen, Virginia Woolf, metaphysical poetry—I read in bed until I swoon into sensuous bafflement at the power of words. Papyrus is now on that short list." —Sarah Ruden, author of The Face of Water

"Vallejo's very personal extended essay is a hymn, a paean, to the written word, to alphabetic script, to literacy and, not least, libraries. . . . A stunningly varied work." —Paul Cartledge, author of The Spartans
  
 "A literary phenomenon . . . Elegant and richly digressive . . . A passionate vindication of the act of reading." —The Times Literary Supplement (United Kingdom)
 
"With a consummate sense of storytelling, and a real delight in writing, [Papyrus] transforms these historical facts into a picaresque journey. . . . This hefty, erudite and lyrical volume, passionate and precise, should be read like a great love song to books, to their diversity, their innumerable benefits, their simple modesty." —Le Monde (France)

"With a first-rate writer's mesmerizing gift for storytelling . . . Vallejo unravels the beleaguered and often fortuitous history of the book." —Corriere Della Sera (Italy)
 
 "One can be a masterful philologist and at the same time write like the angels . . . A true literary feast." —ABC (Spain)