The Haunting of Hajji Hotak and Other Stories (Hardcover)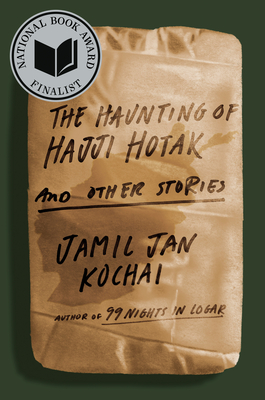 Staff Reviews
---
"Kochai's remarkable short story collection focuses on Afghan experiences in recent history, deliberately ruminating in the quotidian in a way that throws into relief the unique intensity of normal life amidst a perpetual war zone (or as part of the diaspora in the adversarial country). The stories are intertwined yet distinct, and I immediately wanted to reread the collection with pen and paper to chart the various relationships throughout. A sharp, essential work that grips and haunts."
— From
Holly
Description
---
FINALIST FOR THE 2022 NATIONAL BOOK AWARD FOR FICTION

WINNER OF THE 2023 ASPEN WORDS LITERARY PRIZE, AND THE 2023 O. HENRY PRIZE

NAMED ONE OF THE NEW YORKER'S BEST BOOKS OF 2022

"An endlessly inventive and moving collection from a thrilling and capacious young talent." —Jess Walter, author of Beautiful Ruins.

A luminous new collection of stories from a young writer who "has brought his culture's rich history, mythology, and lyricism to American letters." —Sandra Cisneros

Pen/Hemingway finalist Jamil Jan Kochai ​breathes life into his contemporary Afghan characters, moving between modern-day Afghanistan and the Afghan diaspora in America. In these arresting stories verging on both comedy and tragedy, often starring young characters whose bravado is matched by their tenderness, Kochai once again captures "a singular, resonant voice, an American teenager raised by Old World Afghan storytellers."*

In "Playing Metal Gear Solid V: The Phantom Pain," a young man's video game experience turns into a surreal exploration on his own father's memories of war and occupation. Set in Kabul, "Return to Sender" follows two married doctors driven by guilt to leave the US and care for their fellow Afghans, even when their own son disappears. A college student in the US in "Hungry Ricky Daddy" starves himself in protest of Israeli violence against Palestine. And in the title story, "The Haunting of Hajji Hotak," we learn the story of a man codenamed Hajji, from the perspective of a government surveillance worker, who becomes entrenched in the immigrant family's life.

The Haunting of Hajji Hotak and Other Stories is a moving exploration of characters grappling with the ghosts of war and displacement—and one that speaks to the immediate political landscape we reckon with today.

*The New York Times Book Review
About the Author
---
Jamil Jan Kochai is the author of 99 Nights in Logar, a finalist for the Pen/Hemingway Award for Debut Novel and the DSC Prize for South Asian Literature. He was born in an Afghan refugee camp in Peshawar, Pakistan, but he originally hails from Logar, Afghanistan. His short stories and essays have appeared in The New Yorker, The New York Times, Los Angeles Times, Ploughshares, and The O. Henry Prize Stories 2018. Currently, he is a Stegner Fellow at Stanford University.
Praise For…
---
Praise for The Haunting of Hajji Hotak and Other Stories

LONGLISTED FOR THE STORY PRIZE

"The Haunting of Hajji Hotak and Other Stories is an endlessly inventive and moving collection, the work of a thrilling and capacious young talent. These stories surprise and charm and haunt in equal measure, while challenging the world as we think we know it. Jamil Jan Kochai is the real deal."
—Jess Walter, author of Beautiful Ruins

"Jamil Jan Kochai is a once-in-a-generation talent."
—Karan Mahajan, author of The Association of Small Bombs

"The Haunting of Hajji Hotak and Other Stories is beyond brilliant. These stories build and amass, individually and collectively, open then close as if the fingers and palm of some great power making a fist... There is so much range and breadth and depth in this collection. Here we have humor and rage and style in spades, with storytelling as inventive as it is enthralling. One of the best books I've read in a long time."
—Tommy Orange, author of There, There

"[A] profound and visceral short-story collection…More than almost any other work of fiction I've read in the post-9/11 era, Kochai's collection lays bare the surrealism that colors nearly every interaction between one of history's most powerful empires and the people it considers disposable…The result is a dark literary impeachment, a fable in which the emperor is missing not clothes but a conscience."
—The Atlantic

"A remarkable collection…seamed with sharp wit, and often hilarious…Kochai is a thrillingly gifted writer, and this collection is a pleasure to read, filled with stories at once funny and profoundly serious, formally daring, and complex in their apprehension of the contradictory yet overlapping worlds of their characters."
—Claire Messud, Harper's Magazine

"[Kochai's] short fiction defies expectations – readers' expectations of what a story should look like, and the story of a nation often told reductively and exclusively through media headlines."
—The Guardian

"A brilliant, crazy quilt exploring filial devotion, religious beliefs, family, history and the effects of endless war."
—San Francisco Chronicle

"The Haunting of Hajji Hotak is a book of shape-shifting. Kochai constantly experiments with form and voice, deftly stepping between photorealism and fantasy to create a vivid, surreal short-story collection that is both a modern parable of American imperialism and a testament to Kochai's skill as a writer…As Afghanistan fades into the background of American discourse, Kochai's voice is essential. We may not wish to see what we have wrought; Kochai, it seems, will ensure we do not forget."
—Vox

"Lighthearted yet powerful and oftentimes funny, The Haunting of Hajji Hotak is an incredible work of deep empathy and care, with witty writing and sharp stories that take unpredictable turns."
—Chicago Review of Books

"[A] captivating collection…in turns amusing and devastating, the stories are rich with vivid scenes and distinct narrative voices…the range of framing and styles keeps the reader on their toes and delivers emotional impact in one hard-hitting entry after another. Readers won't want to miss this."
—Publisher's Weekly (starred) 

"Kochai has a gift for knowing what makes the engine of a story turn over and go, what formal choices might deliver a narrative in such a way as to coax a reader to endure a set of experiences that, whatever their frequent delights— and the stories are uncommonly full of them— are rooted in sorrow, loss, and rage."
—New York Review of Books

"A master class in storytelling, and a beautiful reflection on a people that have endured decades upon decades of tragedy. Stunning, compassionate, flawless."
—Kirkus Reviews

"There's magic here…in this visceral, timely collection."
—Booklist