The Love of My Life: A Novel (Hardcover)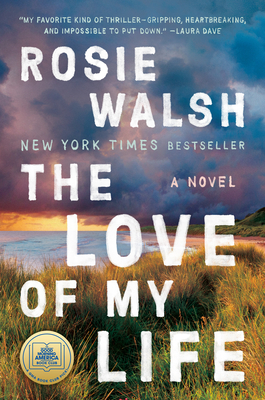 Description
---
A NEW YORK TIMES BESTSELLER | GOOD MORNING AMERICA BOOK CLUB PICK

"Gripping, heartbreaking and impossible to put down."—Laura Dave

"A dazzling supernova of a book, it picks you up on line one and doesn't let you go until the very end." —Lisa Jewell

From the New York Times bestselling author of Ghosted comes a love story wrapped in a mystery: an up-all-night page-turner with a dark secret at its core

Emma loves her husband Leo and their young daughter Ruby: she'd do anything for them. But almost everything she's told them about herself is a lie.

And she might just have got away with it, if it weren't for her husband's job. Leo is an obituary writer; Emma a well-known marine biologist. When she suffers a serious illness, Leo copes by doing what he knows best – researching and writing about his wife's life. But as he starts to unravel the truth, he discovers the woman he loves doesn't really exist. Even her name isn't real.

When the very darkest moments of Emma's past finally emerge, she must somehow prove to Leo that she really is the woman he always thought she was . . .

But first, she must tell him about the other love of her life.
About the Author
---
Rosie Walsh lived and traveled all over the world, working as a documentary producer and writer. Ghosted, her American debut, was a New York Times bestseller and has sold more than a million copies worldwide. The Love of My Life is her second novel. She lives in Devon, UK, with her partner and two children.

Praise For…
---
Praise for The Love of My Life:

"Let's put it this way, if it weren't for work I would have been able to finish this book in a day."
—Lama Hasan, ABC News

"Combining the gripping pace of a psychological thriller with the tenderness and sorrow of a love story gone wrong, this one's a winner."
—People, Book of the Week

"The Love of My Life is a dazzling supernova of a book, it picks you up on line one and doesn't let you go until the very end. Each chapter is filled with heart-breaking twists and revelations, and it is brimming with human warmth and intelligence."
—Lisa Jewell, #1 New York Times bestselling author of The Night She Disappeared

"Readers won't be able to stop turning the pages to see how the past and present inevitably collide in Rosie Walsh's latest. The Love of My Life is a poignant love story, a propulsive mystery and a cautionary tale about the secrets we keep. I couldn't put it down."
—Greer Hendricks, New York Times bestselling author of You Are Not Alone

"Walsh's hugely compelling The Love of My Life instantly pulls you deep into the interior of a marriage. Part thriller, part mystery, part heart-wrenching love story, this is a treasure for book clubs everywhere."
—Ashley Audrain, New York Times bestselling author of The Push

"Rosie Walsh's The Love of My Life is my favorite kind of thriller—gripping, heartbreaking and impossible to put down."
—Laura Dave, #1 New York Times bestselling author of The Last Thing He Told Me

"A bruising and beautiful mystery that kept me guessing till the very end, The Love of My Life delivers on every level. I'm a huge fan of Rosie Walsh."
—Chris Whitaker, New York Times bestselling author of We Begin At The End

"How do we really build a new life? About the mystery of identity and the sometimes cost of love, Walsh's latest is a stunner."
—Caroline Leavitt, New York Times bestselling author of and With or Without You

"The Love of My Life is an extraordinary novel. Rosie Walsh combines the emotional punch of the best of romance with the page-turning twists of the most masterful thrillers. I was torn between pausing to weep, and ploughing on to solve the mysteries."
—Clare Pooley, New York Times bestselling author of The Authenticity Project

"Walsh masterfully shows both [protagonists'] points of view while maintaining an intoxicating air of mystery…a propulsive thriller with heart that will keep readers guessing."
—Kirkus, starred review

"[A] heartbreaking thriller…[that] explores the complexity of secrets in marriages…Walsh cleverly integrates twists that not even jaded readers will be able to predict…that builds to an emotionally raw yet satisfying conclusion. Walsh is a writer to watch."
—Publishers Weekly, starred review

"What do you do when you find out everything your wife ever told you about herself is a lie? Allow Rosie Walsh's love story slash mystery, The Love of My Life, to explain."
—Marie Claire

"Perfect for your next book club, Rosie Walsh's The Love of My Life is a love story meets thriller about the complexities of deceit within marriage."
—Parade

"I am a huge fan of Rosie Walsh's writing. The Love of My Life is heart-wrenching, beautiful and thought-provoking; it made me cry, smile and hug my own loved ones a little tighter."
—Beth O'Leary, international bestselling author of The Flatshare

"Perfection. Every word. Every moment. Every emotion. Brave, heart-breaking, and hopeful. A breathtaking story."
—Lucy Clarke, bestselling author of One of the Girls                     

"Brilliantly plotted and beautifully written, what really elevates Rosie Walsh's book above the competition is the characters. Contradictory, flawed and entirely human, I loved and rooted for them like real people."
—Kate Riordan, author of The Heatwave                           

"Wow, this book! With The Love of My Life Rosie Walsh has achieved a very rare thing: a totally heart-rending love story that is also a page-turning thriller - how does she do it?!?! Addictive, moving, totally unputdownable. It really is superb and has Netflix series written all over it."
—Katy Regan, author of How To Find Your Way Home

Praise for Ghosted:

"I absolutely loved this book and didn't want it to end."
—Liane Moriarty, #1 New York Times bestselling author of Big Little Lies

"Riveting."
—Cosmopolitan

"Walsh has a good ear for dialogue, and the mystery behind Eddie's disappearance is a particularly satisfying one."
—The New York Times Book Review

"A gripping and surprising romantic suspense story. . . . You won't want to put it down."
—NPR