Very Cold People: A Novel (Hardcover)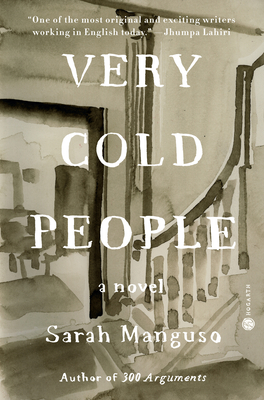 $26.00
Out of Stock - Not Available
Description
---
NEW YORK TIMES EDITORS' CHOICE • The masterly debut novel from "an exquisitely astute writer" (The Boston Globe), about growing up in—and out of—the suffocating constraints of small-town America.

LONGLISTED FOR THE PEN/JEAN STEIN BOOK AWARD • "Compact and beautiful . . . This novel bordering on a novella punches above its weight."—The New York Times

"Very Cold People reminded me of My Brilliant Friend."—The New Yorker

ONE OF THE BEST BOOKS OF THE YEAR: The New Yorker, NPR, Los Angeles Times, The Guardian, Good Housekeeping

"My parents didn't belong in Waitsfield, but they moved there anyway."

For Ruthie, the frozen town of Waitsfield, Massachusetts, is all she has ever known.

Once home to the country's oldest and most illustrious families—the Cabots, the Lowells: the "first, best people"—by the tail end of the twentieth century, it is an unforgiving place awash with secrets.
 
Forged in this frigid landscape Ruthie has been dogged by feelings of inadequacy her whole life. Hers is no picturesque New England childhood but one of swap meets and factory seconds and powdered milk. Shame blankets her like the thick snow that regularly buries nearly everything in Waitsfield.
 
As she grows older, Ruthie slowly learns how the town's prim facade conceals a deeper, darker history, and how silence often masks a legacy of harm—from the violence that runs down the family line to the horrors endured by her high school friends, each suffering a fate worse than the last. For Ruthie, Waitsfield is a place to be survived, and a girl like her would be lucky to get out alive.

In her eagerly anticipated debut novel, Sarah Manguso has written, with characteristic precision, a masterwork on growing up in—and out of—the suffocating constraints of a very old, and very cold, small town. At once an ungilded portrait of girlhood at the crossroads of history and social class as well as a vital confrontation with an all-American whiteness where the ice of emotional restraint meets the embers of smoldering rage, Very Cold People is a haunted jewel of a novel from one of our most virtuosic literary writers.
About the Author
---
Sarah Manguso is the author of eight books. Her previous book, 300 Arguments, a genre-defying work of aphoristic nonfiction, was named a best book of the year by more than twenty publications. She is the recipient of a Guggenheim Fellowship, a Hodder Fellowship, and the Rome Prize. Her work is regularly featured across The New York Times Magazine, O: The Oprah Magazine, and The New Yorker, among others. She grew up in Massachusetts and now lives in Los Angeles. Very Cold People is her first novel.
Praise For…
---
"Though dealing with life's ugly, messy truths, her writing is compact and beautiful. So masterly is Manguso at making beauty of boring old daily pain. . . [the book is] a compendium of the insults of a deprived childhood: a thousand cuts exquisitely observed and survived. . . . This novel bordering on a novella punches above its weight."—The New York Times

"Reading Manguso is like watching someone skin an animal, slice its throat and drain its blood, preparing it quickly and efficiently for consumption. You wonder, reading her succinct and devastating sentences, just what she had to do to get there."—Los Angeles Times

"[Manguso] belongs to a cohort of minimalist, stream-of-consciousness writers—Jenny Offill, Sheila Heti, Eula Biss—whose texts work out the equations of domestic life and creative ambition."—New Yorker

"A searing catalogue of pinched bitterness . . . But with her gemlike apercus, Manguso renders this bleakness oddly fascinating."—Claire Messud, Harper's Magazine

"A chilling first novel . . . This coming-of-age story offers a stark take on what it is to feel poor, poorly nurtured, and inadequately loved in a class-conscious, lily-white town….Very Cold People does what we ask of good literature: It absorbs our attention and stirs empathy and reflection."—NPR

"In this carefully constructed novel, the pervasive cold is as human as it is meteorological. Manguso is an exquisitely astute writer."—Boston Globe

"With glacial precision and mordant wit, Manguso delineates a milieu in which class and gender get silenced by lip service to the American dream. Very Cold People feels monumental: an icy cenotaph for a not-so-distant past."—Minneapolis Star Tribune

"[Manguso's] prose is, like a red wine reduction, boiled down to its most potent iteration, It's all killer, no filler with Manguso."—AV Club

"Breathtakingly well-written."—Shelf Awareness

"Sarah Manguso is one of the most original and exciting writers working in English today. Every word feels necessary, and she's redefining genre as she goes."—Jhumpa Lahiri, Pulitzer Prize–winning author of Interpreter of Maladies

"Very Cold People knocked me to my knees. So precise, so austere, so elegant, this story is devastatingly familiar to those of us who know the loneliness of growing up in a place of extreme emotional restraint."—Lauren Groff, author of Florida

"A haunted masterpiece, written with the precision of a miniaturist and the vulnerability of true heartache. I wept more than once; I recognized myself more than once. Very Cold People proves yet again that Manguso is one of the greats."—Andrew Sean Greer, Pulitzer Prize–winning author of Less

"I loved every sentence, thought, and gesture in this perfect novel. Sarah Manguso has painted a deeply moving portrait of the stark unreality of childhood."—Catherine Lacey, author of Pew

"A poignant and unnerving masterwork about growing up in a dominator society, told with the concision, carefulness, and sense of mystery that we've come to expect from Sarah Manguso."—Tao Lin, author of Leave Society

"Manguso is a lovely writer about unlovely things. . . . A taut, blisteringly smart novel, both measured and rageful."—Kirkus Reviews (starred review)