Cherish Farrah: A Novel (Hardcover)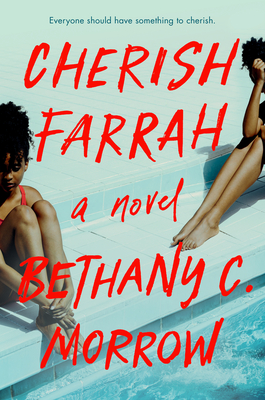 $26.00
Out of Stock - Not Available
Description
---
Named a Most Anticipated Book of 2022 by PopSugar, Ms. magazine, Medium, Book Riot, BookPage, CrimeReads, Tor Nightfire, Bookshop, Book Talk, BiblioLifestyle, and more! 

AN APRIL 2022 BELLETRIST BOOK CLUB PICK

"Morrow uses her heroine's warped perspective to examine painful truths about race and class in America, but this isn't a book intended to teach anyone a lesson, except maybe: Be careful. You never know who's really in control."—Los Angeles Times

From bestselling author Bethany C. Morrow comes a new adult social horror novel in the vein of Get Out meets My Sister, the Serial Killer, about Farrah, a young, calculating Black girl who manipulates her way into the lives of her Black best friend's white, wealthy, adoptive family but soon suspects she may not be the only one with ulterior motives. . . .

Seventeen-year-old Farrah Turner is one of two Black girls in her country club community, and the only one with Black parents. Her best friend, Cherish Whitman, adopted by a white, wealthy family, is something Farrah likes to call WGS—White Girl Spoiled. With Brianne and Jerry Whitman as parents, Cherish is given the kind of adoration and coddling that even upper-class Black parents can't seem to afford—and it creates a dissonance in her best friend that Farrah can exploit. When her own family is unexpectedly confronted with foreclosure, the calculating Farrah is determined to reassert the control she's convinced she's always had over her life by staying with Cherish, the only person she loves—even when she hates her.

As troubled Farrah manipulates her way further into the Whitman family, the longer she stays, the more her own parents suggest that something is wrong in the Whitman house. She might trust them—if they didn't think something was wrong with Farrah, too. When strange things start happening at the Whitman household—debilitating illnesses, upsetting fever dreams, an inexplicable tension with Cherish's hotheaded boyfriend, and a mysterious journal that seems to keep track of what is happening to Farrah—it's nothing she can't handle. But soon everything begins to unravel when the Whitmans invite Farrah closer, and it's anyone's guess who is really in control.

Told in Farrah's chilling, unforgettable voice and weaving in searing commentary on race and class, this slow-burn social horror will keep you on the edge of your seat until the last page.
About the Author
---
Bethany C. Morrow is a national bestselling author writing for adult and young adult audiences. She is the author of the novels Mem, A Song Below Water, A Chorus Rises, and So Many Beginnings: A Little Women Remix. She is the editor/contributor to the young adult anthology Take the Mic, which won the 2020 ILA Social Justice Literature Award. Her work has been featured in the Los Angeles Times, Forbes, Bustle, BuzzFeed, and more. She is included on USA Today's list of "100 Black Novelists and Fiction Writers You Should Read."
Praise For…
---
"Cherish Farrah got me shivering in all kinds of good ways. Intelligent, insightful, and absolutely creepy, too. The novel builds mystery and intensity with such powerful intent. Bethany C. Morrow knows how to make a reader squirm, and thank goodness for that."
—Victor LaValle, author of The Changeling and The Ballad of Black Tom

"Cherish Farrah is a delicious page-turner [with a] strong intellectual foundation, set in a world that on the surface feels disturbingly glossy with its champagne and perfect dresses and two Black girls who are clinging to each other."
—Megan Giddings, author of Lakewood

"[Cherish Farrah] spirals into the dysphoric and surreal, ultimately turning into the kind of unnerving social horror Jordan Peele popularized in the 2017 film Get Out. . . . It's shot through with its narrator's destabilizing visions and occasional hallucinations, which make its world feel queasily, feverishly strange. . . . [It's] not a book for the faint of heart. . . . At once restrained and ferocious; like Farrah, it maintains control until it can't anymore, and then it erupts. Morrow uses her heroine's warped perspective to examine painful truths about race and class in America, but this isn't a book intended to teach anyone a lesson, except maybe: Be careful. You never know who's really in control."
—Los Angeles Times

"A spine-tingling thriller."
—PopSugar

"One of those slow-burn thrillers, with an electrifying end, this is a highly buzzed-about title this spring."
—Amazon Book Review

"I don't believe the word "mind-blowing" is an adequate description of Bethany C. Morrow's Cherish Farrah, but it's the closest that language has to offer. Although I've always been drawn to horror in both literature and film, Morrow's book is a different breed: It grips the senses and left me wanting more and feeling desperate for an abrupt end to its viciousness, all at the same time. . .Bodies of work focusing on social horror, like Morrow's, shows how complicated existence is for Blacks while stripping away the privilege of illusion for white people. There's nowhere to hide. No way to deflect. All of us are left facing down the naked truth. Ensnared by the light of a horror that society can't turn off."
—The Rumpus

"Cherish Farrah is a stunning one-two punch of social horror and psychological thriller."
—CrimeReads

"Bethany C. Morrow has created a masterpiece. . . . It is a slow burn and well worth the wait. . . . Morrow is skilled with her words as we can feel the tension slowly building between each character, which brings us to a conclusion that is both jaw-dropping and also a little weird. . . . I certainly won't forget Cherish Farrah for a long time."
—Mystery & Suspense Magazine
 
"Bethany C. Morrow's latest cinematic social-horror novel, Cherish Farrah, is right at home among . . . uneasy, atmospheric narratives. . . . Farrah's chillingly claustrophobic perspective infuses Cherish Farrah with a deep and creepy dread."
—Alta

"Ever since we read Bethany C. Morrow's dystopian novel Mem, we've been eager to see how she'd follow it up. She's gone in unexpected directions since then, covering a lot of stylistic ground, and we are—as the saying goes—here for it. Cherish Farrah is about the fraught friendship between two teenage girls and the unsettling secrets hidden within one of their families, making for a haunting denouement."
—Vol. 1 Brooklyn

"Bethany C. Morrow's second novel for adults addresses classism and racism, as well as families and friendships. It's a slow burn from page one and ends in discomfort for all. Like Mem, Morrow's first novel, Cherish Farrah is beautifully written, with poetic language and passages full of vivid, intricate imagery. Unlike Mem, her newest novel puts race in the forefront." 
—The Massachusetts Review

"Bestselling author Bethany C. Morrow gives us a new adult social horror novel that I did not want to stop reading. . . . This is the kind of book that is supposed to disturb readers and make us think, and Morrow achieved both of these goals. This was my first novel by Bethany C. Morrow but will not be my last."
—Black Girl Nerds

"If you like unsettling books about manipulative people worming their way into someone else's life, then get ready for this great novel!"
—Book Riot

"Morrow returns to adult fiction with a chilling thriller about race, class, and female friendship. . . . The shocking ending to this suspenseful novel with a masterfully drawn narrative voice will leave readers breathless."
—Booklist

"[A] slow-burning tale of power and manipulation."
—BookPage